By Vinita Wagh
Photography: Andre J Fanthome; courtesy Archohm
Read Time: 3 mins
(inset) Ar. Sourabh Gupta
Archohm's urban renewal of Lucknow's Hussainabad is a momentous endeavour that composes quasi-pedestrianisation, landscape and the built forms onto one heritage-themed canvas.
Obscured by today's chaotic urban landscape, Lucknow, at heart, is a city where the history and culture of a bygone era resonates through its architectural expressions. With a vision to revive, reflect and reconnect to this forgotten historical legacy, Studio Archohm undertakes this integrated development, that also lies within the 'Heritage Arc', by initiating a dialogue between the city and its people, making way for an enriching urban experience.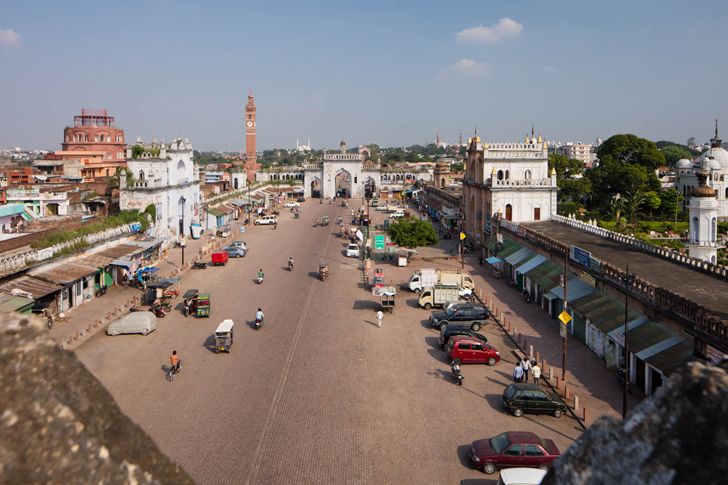 .
.
.
The proposal centres around a 1.3km spine, distinctly marked by the 'Chota Imambara' and 'Bada Imambara' at the two ends, anchoring a total of 10 monuments that lie in its vicinity. Recalling the comfortable tempo of the earlier processional routes, the design incorporates walkability and a future traffic bifurcation across the site. Cobbled streets and wide pavements reinforce slow vehicular zones, weaving routes that amble around, envelope and bind the scattered monuments to one another. Their expansive foregrounds provide for unique social venues.
.
The design articulates the use of materials, colours and hard-soft landscapes to convey coherence. Lime finish and Red Agra stone explicitly impart a yellowish-white and pinkish appearance. The pavement, referencing the regional vernacular, makes use of 'Mandana'- the Lakhori brick used in Avadh Architecture, laid in a fishtail pattern. While green footprints and 'Gulmohar' trees emphasise flamboyance, street furniture, lighting, signage, seating and installations stress on the functionality. The light poles, another highlight, follow the profile of the 'Roomi Darwaza'.
.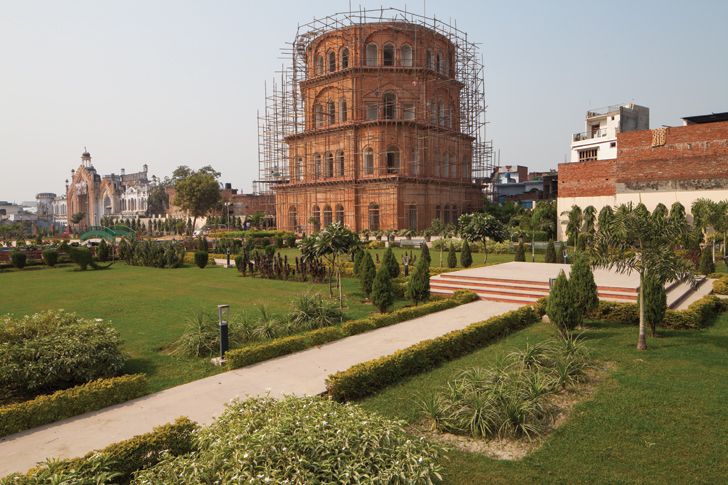 .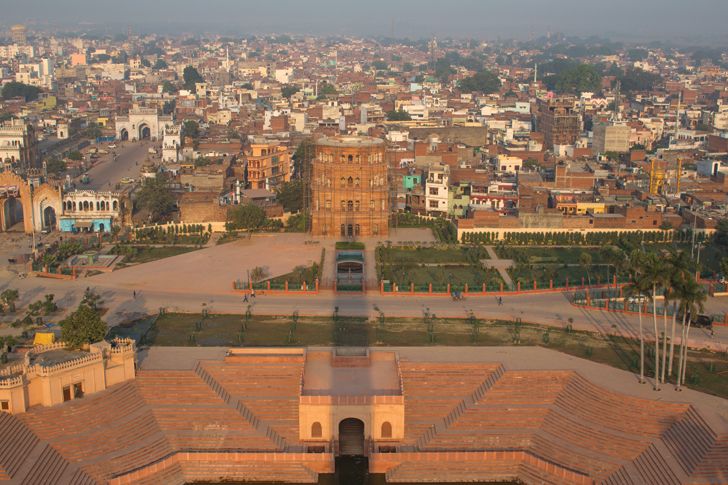 .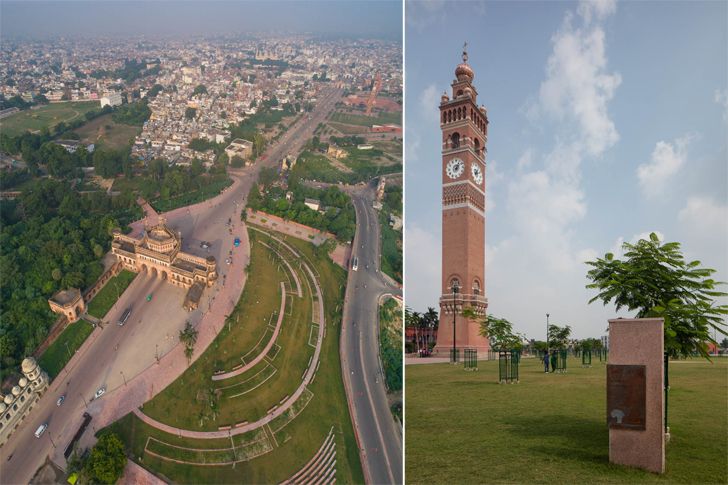 .
Institutions create instances of spiritual and social relevance that redefine the spine. The glass storeyed 'Satkhanda', an experience museum, multilevel parking, information centres, food courts, the stepped bathing pond, amphitheatre and the musical fountains also form a part of the panoramic scheme.
.
.
This measured, minimal intervention takes cognizance of these nuances and past traces to infuse new energy, value and character – filling the voids and playing with dichotomies of the built and the unbuilt.
.
Client: Lucknow Development Authority
Project: Integrated Development of Old Lucknow (Hussainabad Area)
Principal Architect: Mr Sourabh Gupta
Design Team: Anindya Ghosh, Girdhar Rautella, Tracy Kikon, Nitin Gupta, Prashant Sharma and Sumit Atrish
Master-Plan Area: 60 acres (approx.)
Built-Up Area:25,000 sqm (approx.)
Location: Lucknow, Uttar Pradesh