Compiled by Team IAnD
Photography: Courtesy MVRDV
Read Time: 3 mins
With the need for housing bursting at its seams, MVRDV completes their first offering in India – a colossal mountainous apartment block equipped to host 5000 residents from all walks of life…
Future Towers on the outskirts of Pune city in Maharashtra, follows a hexagonal grid and features nine housing wings ranging from 17 to 30 storeys arranged around just four circulation cores in a true vertical village that will house around 5,000 people in a single building.
© Ossip van Duivenbode
Working contrary to the premise that for residential development to be economically viable, it must be compartmentalised into generic, repetitive stand-alone towers clustered to form a township, the architects at MVRDV have decoded the high-density-low-individuality housing need by offering a variety of apartments ranging from 45 sq. m. to 450 sq. m. mixed together under the aegis of a single mega structure with shifting floor plans. This out-of-box solution that has been encouraged by the developers caters to aspiring residents from diverse socio-economic strata of society - including young, mobile professionals who are new to the city; older, established residents; and families both large and small.
© Ossip van Duivenbode
© Ossip van Duivenbode
Fostering the communal feel, the seemingly-matchbox-like façade depicts a strong graphical appearance dotted by recessed balconies that hint at the diversity of the homes behind, with a mixture of normal size, double-height, double-width and even some L-shaped balconies. This is further accentuated by large, brightly-coloured openings known as "scoops" (scattered throughout the housing wings) that puncture the building's façade to connect with the central corridor, providing public meeting spaces and cross ventilation in all communal spaces in the process.
© Ossip van Duivenbode
The 'scooped spaces', which originated from the need to provide refuge spaces to meet the fire code requirements for long corridors - help to give a sense of neighbourhood identity to different parts of the building, each scoop is designated for a different activity (such as yoga or mini golf) or for a different type of resident (such as teens or toddlers). Further, they bring colour and a sense of community and excitement to the building's façades as inclined roofs allow for several exterior terraces, both private and communal.
© Ossip van Duivenbode
© Ossip van Duivenbode
The courtyards below are linked by four-storey-high triangular gates, creating a 500-metre-long walk, and also feature different uses, with some designated for play, and others for sport, garden spaces, and more. This impressive list of amenities is made possible by the scale of the development: With so many apartments in one project, luxury features such as a 50-metre lap pool only add a fraction to the overall cost. Further a reduced number of lift cores combine with corridors to result in an economically viable solution.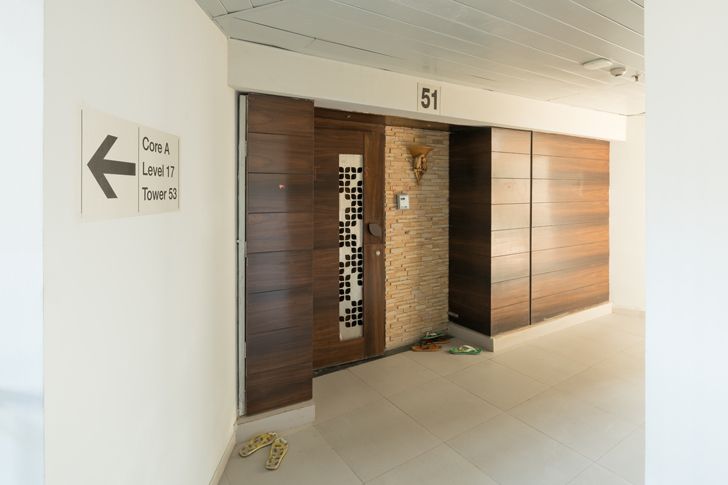 © Ossip van Duivenbode
© Ossip van Duivenbode
© Ossip van Duivenbode
While much of MVRDV's approach focuses on rethinking Indian housing, the design also recognises which features should carry over from typical housing developments. A simple yet effective natural ventilation system, which both cools the apartments and can help extract air from kitchens, helps to make personal air conditioning units optional for residents. The floor plans also incorporate the principles of Vaastu Shastra, the traditional system of Indian architecture. It is thanks to the client's willingness to try something new that the efficiency needed for mass housing has been achieved without cutting back on residents' comfort.
This completed building is just the first phase of the larger Future Towers project at Amanora Park Town, which comprises three phases and around 3500 dwellings in total. MVRDV is currently working on the second phase of the project.