By Savitha Hira
Photography: Tejas Shah; courtesy the architects
Read Time: 2 mins
.
It is said, "The world is a book, but if you don't travel, it's just a page". Modi Srivastava & Associates carve out a niche travel office that paves the way for worldly comfort…
Office interiors have progressively evolved over the last two-plus decades. No sooner had the bright cheerful colours and break out spaces made their appearance in the name of employee welfare that a lot of offices began to wear a very cheerful look. But what remains unchanged is the fact that a certain peaceable ambience is conducive to interpersonal communication as well as productivity. This is precisely the premise that Modi Srivastava & Associates zero in on while designing the office for Ramakrishna Travels in Vadodara.
.
.
Using a tried and tested approach, they carve out a neutral interior envelope playing on shades of umber and complementing them with the warmth of light and the transparency of glass. Mandatory functions viz, domestic and international ticketing, visa services and the like are taken care of in an open plan sans partitions and cubicles except for a perfunctory zoning of services like client servicing, meeting rooms and accounts.
.
.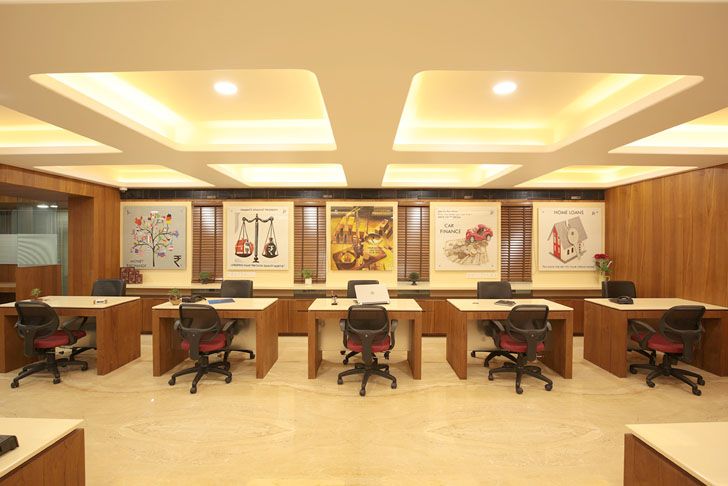 .
Veneer and MDF tables topped with white PU coating, vitrified-tile flooring in the main office and red carpeted flooring in the meeting rooms, a staircase fabricated using MS sheets with wood cladded on them and supported by Stainless steel ropes and a one-off fabric-clad wall brings together elements that are suave and subtle at the same time.
.
.
Doing away with exposed light fittings, a coffered ceiling with recessed lighting becomes the in-the-eye design element of the project. The designers also shun the overt billboard approach to advertise destinations. Instead, a world map printed conference table-top, select art and artwork and choice monuments printed on white stones wall-mounted as an intrigue factor in the reception area add a subtle touch of charm.
.
.
.
Simple timeless interiors that are conducive to alterations in terms of future expansion and easy on maintenance constitute the cocoon of warmth needed to quieten the jumpy nerves of aspiring travellers. The designers reinstate that neutral rules and clean lines and angles can always be banked upon to accomplish a balanced and well-defined space.
Project: "Smiles For Miles"- a travel agent's office
Client: Ramkrishna Travels
Architect Firm: Modi Srivastava & Associates
Princial Designer: Ar.Amit Srivastava
Design Team: Ar. Darshika & Nikita