By Vinita Wagh
Photography: Nivedita Gupta; courtesy Renesa
Read Time: 2 mins
Casa Forma (inset) l-r: Ar. Sanchit Arora & Ar. Sanjay Arora
Renesa Architecture Design Interiors flaunts Casa Forma, a 7200 sq. ft. residence juxtaposed against the panoramic canvas of the Himalayan foothills.
Named 'Forma' as it borrows from the flat planes and contoured terrain of the mountain ranges, the built form unfolds in a horizontal play of staggered spaces – in strong contrast to the vertical peaks in the distance.
.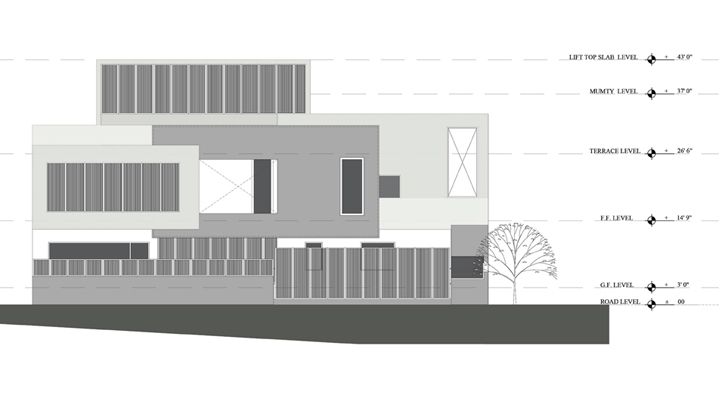 Elevational detailing
Positioned on a downward sloping terrain, the residence provides south-facing unobstructed views and evolves, creating expressions through spaces and occasions. Reflecting monumentality and isolation through its layered, deconstructed volumes, the clean, horizontal line-play of its façade emphasises on the edges, repose, and stability.
.
.
The configuration of the elevational geometry indicates balance; and acts as a visual stimulus, creating instantaneous impact. These seemingly floating facade walls, visually separated from the main volume, provide transparency, protection and add aesthetical value. Although this separation has its focus on lighting and ventilation, it creates a beautiful design rhythm – a sequence that draws the eye across the seemingly-expanding façade.
.
.
Strategic voids and open-to-sky corridors interspersed with sliding-folding slat-screens act as windows to the scenic surrounds, framing vistas, creating photographic memories with the change of light at night and day.
.
Within this layered architecture, the interior layout constitutes two programmatic boxes - with the spatial layout maximizing flexibility in terms of natural light and ventilation – the ground floor is a more public zone with suites and the top floor caters to private areas of the gym, TV, playrooms in addition to two more suites.
Add caption
.
.
Low, solid wood furniture and ample circulation spaces dominate the interior; each space set apart from the panels, unique in impression but harmonised. The decor is subdued and enduring, keeping pace with the architectural vocabulary. Temporality is thus rhythmically perceived as the spaces vouch for both, a physical and metaphysical dynamic as nature, people and the built form indulge in interactive dialogues - evolving and vivifying in nature.
Through this project, Renesa takes cognizance of green pockets and air corridors, and the spatial dynamic and their significance in architectural design, especially within this bountiful context of the Himalayan foothills. The residential typology initiates the proposed empathetic of growing urban homes in the foothills.
Client - Mr. Rajeev Aggarwal
Design Firm: Renesa Architecture Design Interiors
Founder |Principal Architect: Sanjay Arora
Studio Head Architect| Concept Design Head/Sketches/Graphics: Sanchit Arora
Interior Designer| Decor Head: Vandana Arora
Studio Technical Head| Architectural: Virender Singh
Location: Haldwani, Uttarakhand