By Rutvi Ashar
Photography: Nayan Soni; courtesy studioTAB
Read Time: 2 mins
JJ Silks, Bangalore (inset) l-r:Rahul Das Menon & Ojas Chaudhari
Studio TAB fashions a retail space for JJ Silks in Bangalore, drawing a parallel to the celebration of colours, patterns and the royalty of the quintessential Indian silk sari, using the thematic as their muse for the showroom design…
For studio TAB, each project begins by breaking down every stereotype attached to it. This is especially true for this 3,600 sq. ft. space which is conceptualised as a finely woven silk sari. Mimicking the flow of the drape, one sees parametrically defined curves and a splash of ethnicity in a fine blend of design that carves out an experiential by-invitation-only retail space.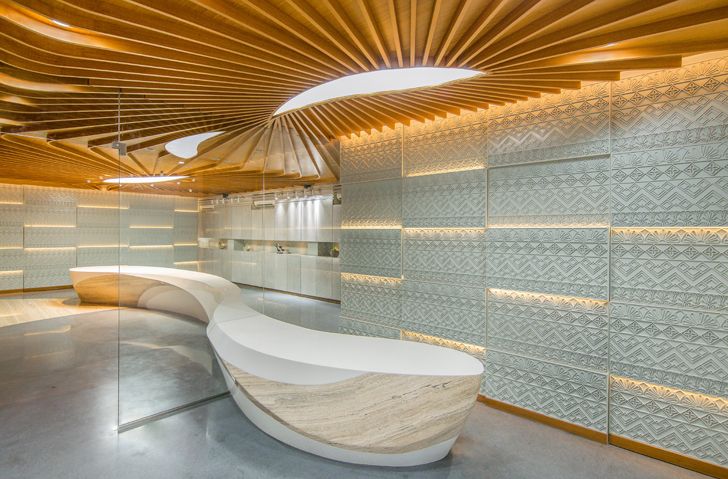 .
.
According to the designers, conventional, overpowering grandeur undermines the natural sheen of the fabric; this premise translates to an interior shell that is minimal and bare at first glance. The colour palette of grey hues on the floor and walls thus enhances the vibrancy of silk on display and the richness of its colours, ensuring a quality experience for the customers without them being overwhelmed by the ambience.
.
The focal element of the boutique is the undulating parametric form of a Travertine marble display table that changes form at every six-inches, flowing at par with the lines and camouflaging artfully carved storage, relating the story of the fabric draped around the curves of a woman. At one end of the table is the display zone, whilst the other end, separated by a glass partition is the reception area.
.
.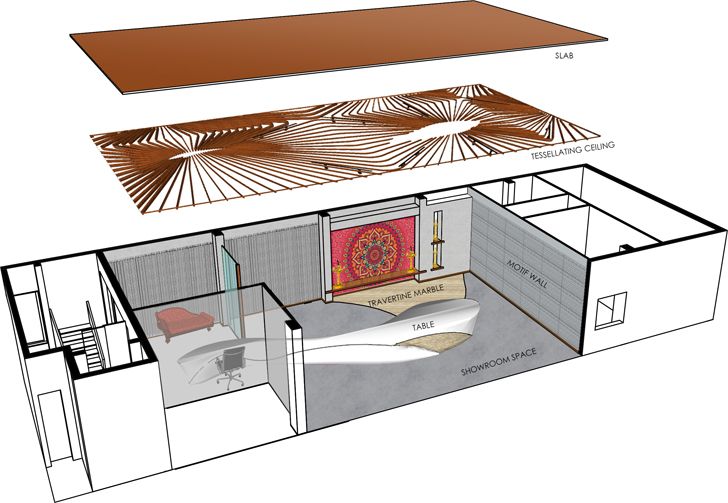 .
The highlight is the light oak-wood finished stretch ceiling that embodies the contrasting and tessellating element of the sari - the pallu. It converges to form two light drops over the display table and serves to create the right illumination for the showroom. Similarly, design inspired by the sari border is imprinted on two highlighter walls in the form of motifs – the screen continuous and mesmerising as it camouflages the door to the back of the store, paying equal attention to practicalities. In order to complete the attire, a 12ft x 7ft Mandala art canvas by artist Samira Sukhatme adorns the space much like a maang teeka on the forehead.
.
.
Completing the syllogism is the subtly reflective concrete flooring (carefully selected for its
colour
and texture) that stirs up an image of two fabrics intertwining and flowing to their own rhythm.
While the designers feel that they've followed a non-linear approach for this project, we observe that their vision is probably something ingrained in their Indianness. Only then would a designer of spaces draw seamless parallels to the Indian fabric.
Architecture & interior design: studio TAB.
Principal Designers: Rahul Das Menon & Ojas Chaudhari
Project lead: Ar. Tushal Pandey
Design development: Ar. Antara Jha
Design team: Sagar, Kanchan, Siddharth, Zahaan.