By Rutvi Ashar
Photography: Tejas Shah; courtesy the architects
Read time: 2 mins
Located in Vadodara, the latest office interior project by Chitte Associates will have you reminiscing about British nostalgia that the client was craving: a reminder of his stay there through college.
In an attempt to recreate the feel of an old-school yet modern interior with a touch of British nostalgia, the designers at Chitte Associates have allowed their client to feel like he owns an office somewhere in Central London despite living in Vadodara. Situated on the first floor of a school building, this accounting office hosts the main cabin and a meeting room amidst a basic office layout with waiting area and service block.
.
Spatial planning dotes heavily on visual connectivity. Thus, an indoor garden with its mirrored ceiling planned in the middle of the office plays on the psyche as a buffer/entertainment space during break times and is brimming with positive vibes.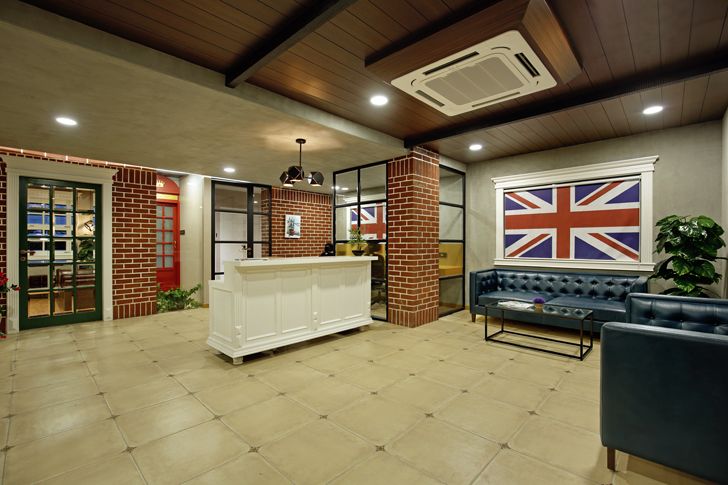 .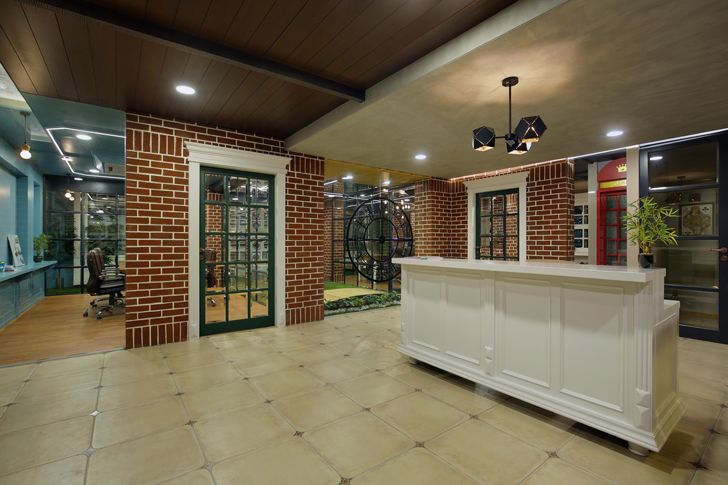 .
.
.
Taking its cue from British architecture and building techniques, the office interiors embrace modern British quirkiness and employ a bold
colour
palette. Elements such as a six-feet diameter clock
conceptualised
after the Big Ben, upholstery inspired from the British Flag and the iconic telephone booth design make their way into the interiors, parallelly alluding to the British influence.
Produced on site, the baked bricks with white cement mortar, the use of glass walls to heighten the volume of the space as well as the vintage chequered monochrome tiles aver to the attention-to-detail that the project commands.
The highlight of the project is the utilisation of space around the existing eleven columns that seem to ameliorate the plan rather than stand out like eyesores.
Design Firm: Chitte Associates
Principal Designer: Vishal Chitte
Built-up Area: 241.54 square metres (2600 square feet)