IAnD

Exclusive
Pre-Diwali Special 2018: Ideas you can use
Read Time: 1 min 30 secs
If you want to savour every bit of the festivities without breaking the bank, then our frugal ideas should do the trick…Happy Diwali!
©Nina Puri exclusively for IAnD
Get party ready: Lighting is perhaps the first mood-maker in a party setting. An easy and interesting way of colouring the mood would be to cover all the bulbs (even under the lampshades) and tube lights with multi-coloured cellophane paper – some yellow, some red, blue, green and the tube lights with strips of alternating colours. Or
switch
off all the lights and make use of a whole bunch of candles instead. Combine a selection of small, tall, floating, scented and hundreds of little night-light candles in glass holders. But see then that it is only candlelight – none other!!
New appeal: Drape an old dupatta or stole on one end of the sofa or even the bed; gives the room a new appeal. You can also throw in some colourful covers on your cushions and add to their numbers to create an inviting warmth into the interior; or bring the plants indoors for added charm.


Photography: courtesy world wide web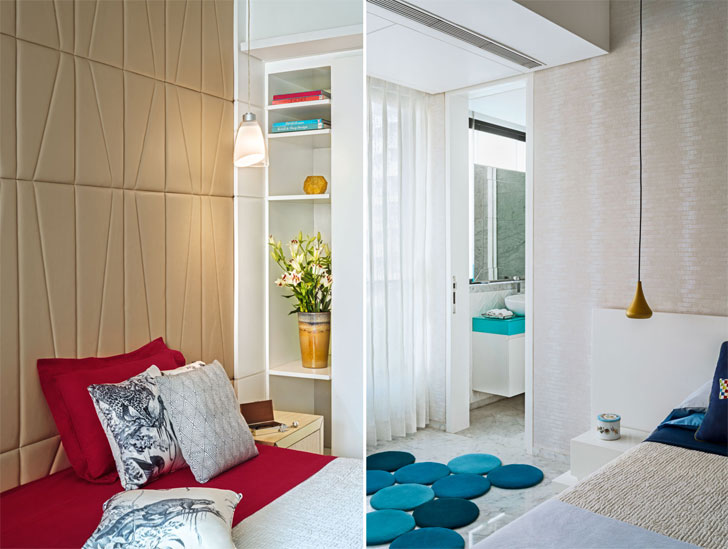 Photography: Fabien Charuau; courtesy ShroffLeon
Magical fabrics
: While items of furniture and the
colour
of your walls, for that matter, even your layout remains unchanged for years, the only other element in your décor – your upholstery, drapes and other loose covers can be changed to keep up with the festive season. A wide variety of fabrics that make an emphatic, yet stylish statement in interiors are suede, velvet, leather, wool, damask, viscose, voile, satin, silk, tissue and the like. Largely depending on the mode of application and the quality of the fabric – you can transform your simple home into a festive zone.
Highlight wall
: Instead of repainting the entire house, simply decorate a wall that is prominently visible to the guests visiting your home. You can get that wall painted or textured by experts to give it a festive look. If you don't feel like painting a wall, an interesting wall decal can add beauty at a fraction of the cost. You could even consider painting it in a segmented manner for that out-of-box appeal.
DIY Diwali Décor: Homemade décor is not only easy on the pocket but when it involves the kids and other family members – it brings in warmth and good cheer that no store-bought item can radiate! Let the kids show off their creativity by painting designs using their abundant school acrylic colours. Wind a string of fairy lights into a glass jar to make a unique lamp that twinkles like stars.