By Vinita Wagh
Photography: Tejas Shah; courtesy Studio Yamini
Read Time: 1 min 30 secs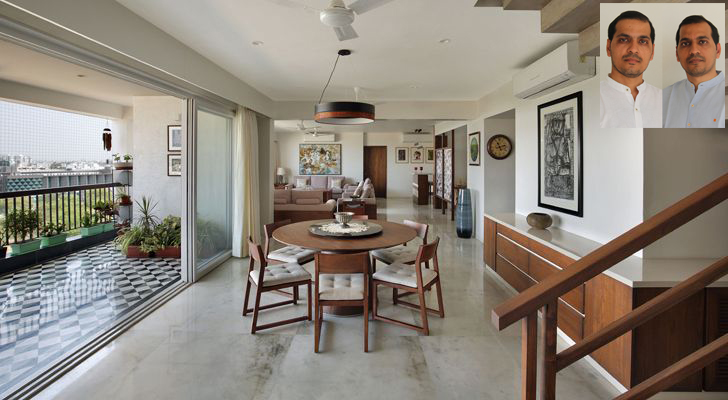 Penthouse in Vadodara (inset) l-r: Architects Mitul Shah & Mehul Shah
Studio Yamini composes a stimulating space, reposeful and heartening, in this 5000 sq. ft. Vadodara penthouse...
Choreographed into a single residential unit from two clean, empty shells, the penthouse is chiselled on the concept of 'living with art' as the architects conceptualise the space to reflect a distinct and simple personality.
.
.
.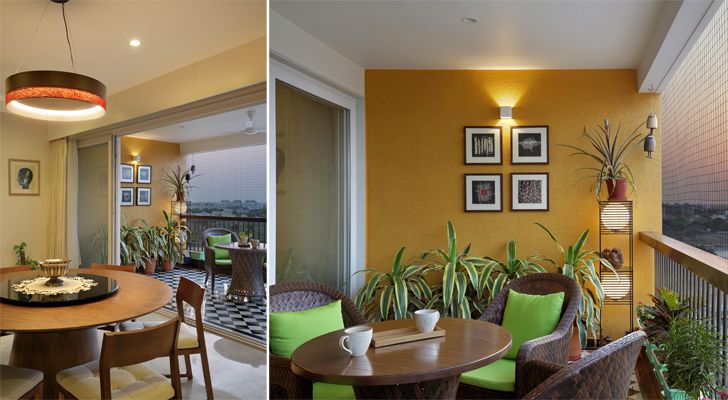 .
Apart from letting in ample natural light and breeze, the spaces within subtly celebrate and display the family's art collection - inspiring the colour palette, drawing focus and adding visual weight and texture to the interiors.
.
.
.
The interiors reveal an assortment of specifics – the custom-designed stained-glass screen that graces the entrance, the seven pendant lamps that hang above the exposed cement-sheet clad stairwell, the terrace pergola, and the balcony/terrace flooring patterns created from three Indian stones and a chevron print - all creating pockets of interest. A transition space on the upper floor that doubles as an art gallery, is another eloquent addition.
.
.
.
.
Indian marble, kota stone, black cudappah, teak wood and teak veneer dominate the material palette, while occasional elements throughout the house lend colour, breaking the beige-brown predictability. The double-glazed windows control noise without hampering the light and coupled with the concealed LED ceiling and spot lights, provide for a welcoming ambience.
The architects curate this penthouse to radiate an understated, timeless appeal. As Picasso once said, "The purpose of art is washing the dust of daily life off our souls" - Studio Yamini, with this penthouse and its interminable appeal, recalls just that.
Design Firm: Studio Yamini
Principal Architects: Mehul Shah & Mitul Shah
Carpet Area: 5000 sq. ft.