Photography: Suryan Dang; courtesy the architects
Read Time: 2 mins
.
Renesa Architecture Design Interiors refurbish and assist in branding an old spectacle store in New Delhi using a design language native to its context.
When Maggo Optics – a four-decade-old 8ft x 8ft spectacle shop spread its footprint on a 1000 sq. ft. elaborate showroom, it commanded a complete makeover – architecture-wise and identity-wise. Working in tandem with Ar. Sanchit Arora of studio Renesa, the Maggo Optics' legacy stands revivified as a go-to destination for all things optical.
.
.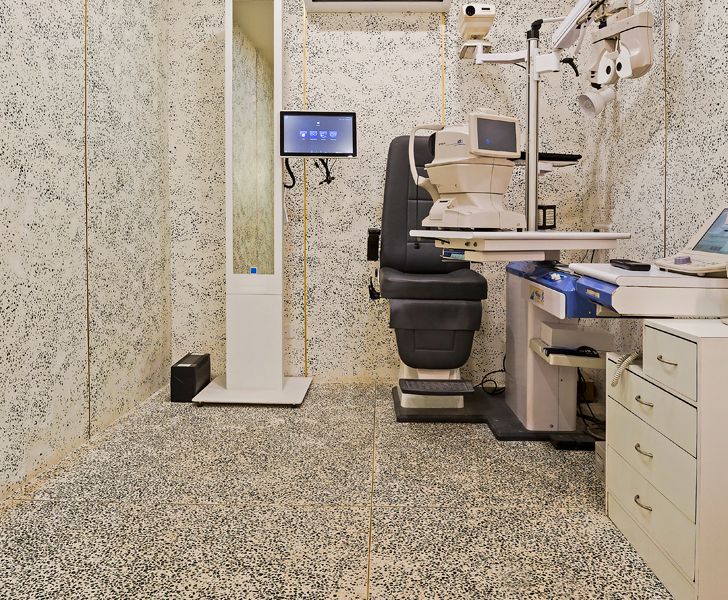 .
Occupying the entire ground floor of the mixed-use complex, the store is an amalgamation of several smaller commercial establishments and challenged the architects to rework on the 60-year-old building by factoring in their new interventions with calculated care. Reviving monolithic Terrazzo walls and floor that constitute its interior envelope was another task as the entire material and labour had to be controlled to achieve a uniform application.
Sanchit resolutely creates compositional marvels, both bold and minimal throughout the store, revealing unique and awe-inspiring spatial frames. Starting at the façade, he designs a playful composition of four arches; one provides access to the store, while others offer a glimpse into the world of optics with large funky spectacle frames, instantaneously attracting passersby' attention.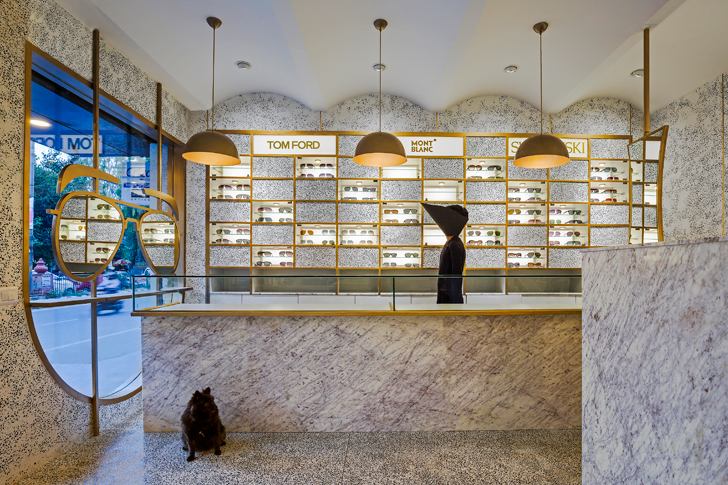 .
.
.
.
Inside, a barrel-vaulted ceiling conceals the existing structure and becomes cue for the arched display of fair-priced products, while a coherent backdrop for the high-end display has each collection enjoying its own little display stage. The store allows customers to explore individual displays, at various mirrors, while also offering pure open exhibition spaces to reflect.
Marble counters set against the rugged Terrazzo envelope constitute a cohesive backdrop to the store, as several elements of brass - from brass inlays in the Terrazzo flooring and walls, brass-framed backlit beading shelving systems, framed mirrors of varying shapes and sizes, to brass dome pendants for lighting… all add finesse, drama and a wee touch of luxury.
.
From "convergence" using different mirrors in various lens shapes and sizes to creating pure open exhibition spaces, the space functions more like the "eye" with multiple simultaneous "reflections and refractions" to enhance the quality of spatial experience. In this, it goes beyond the immediate requirements of retail spaces, curating a journey that integrates information about vision and optics into the design.
Fact File:
Client: Maggo Optics
Design Firm: Renesa Architecture Design Interiors Studio
Principal Architect| Founder: Sanjay Arora
Studio Head Architect|Concept Design Head| Graphic Design: Sanchit Arora
Interior Designer| Decor Head: Vandana Arora
Built-up Area: 1000 sq. ft.
Carpet Area: 850 sq. ft.
Location: New Delhi, India