By Marina Correa
Photography: Ravi Kanade; courtesy HS Desiigns
Read Time: 2 mins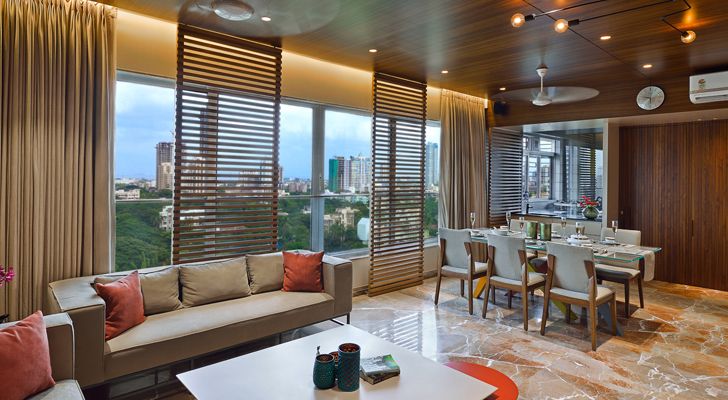 .
HS Desiigns uses clean lines and a subtle colour palette to foster understated chic in an apartment in central Mumbai…
The 1400-sq.ft. residence sports a palatial feel with strategic elements of intrigue that make for the element of surprise that adds pizzazz to a personal space.
Add caption
.
The designers astutely employ the camouflage principle to conceal storage into wall panelling (as seen in the multi-purpose room) or suitably within crafted furniture, all over. Interestingly, one would never be able to tell there's a door behind a large painting on the veneer sliding panel of the drawing-dining area or even the faux scenario – where a window is camouflaged to create a study table in the daughter's bedroom.
.
.
.
Crèmes and shades of umber cull out a neutral interior envelope whilst an element of intrigue is introduced via premeditated pops of colour in dining table legs, niches in the walls of the daughter's bedroom, soft furnishings, wall art and artefacts and the like.
.
Select light fittings and modestly-styled furniture and furnishings hint at the keen eye for detail. For example, the living-dining exudes understated luxury with warm hues of beiges and browns, juxtaposing cool Italian marble flooring with eucalyptus smoked veneer ceiling and walls as custom-designed metal lights enhance the aesthetics of the veneer ceiling. A generous play of geometric forms dots this scenario; perhaps, to veer away from the linearity, creating multiple points of interest.
.
.
The overall approach to this three-bedroom apartment underlines the attempt to augment the spatial feel of the already large home, especially its linear element. A mirror in the daughter's bedroom breaks the linearity of the bedroom passage adding dimension; likewise, two wooden sliding screens anoint the living room bay windows to break its linear expanse; a partially-open kitchen adds volume to the living-dining area as does the partially-open bathroom to the daughter's bedroom.
A touch of earthiness comes through fluted teak wood; simple wall accessories, a 'tree of life' painting etc. in the bedrooms – carving out a homely and charming aesthetic.
Principal Designer: Hitesh Shahanand
Associate Designer: Rakesh Adarverikar
Carpet area: 1,400 sq. ft.
Location: Matunga, Mumbai