By Annie Aggarwal
Photography: Ricken Desai; courtesy Think Designz
Read Time: 2 mins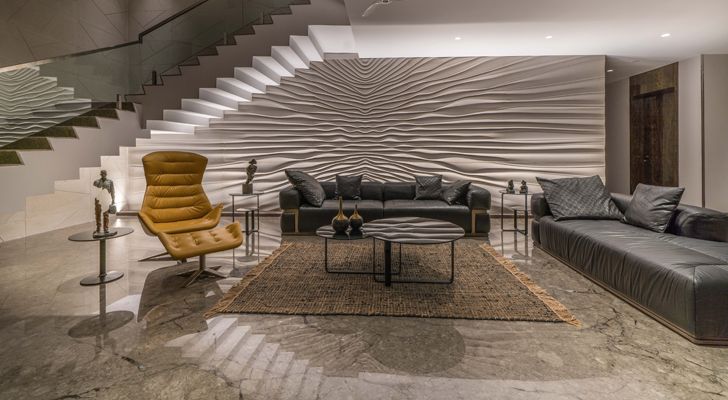 .
Think Designz conceives a delightful play of surface finishes to adorn the expansive, well-appointed 15000 sq. ft. bungalow of Hyderabad's famed Karachi Bakery's owner in an uber chic neighbourhood…
A combination of several common spaces throughout the house and lavish bedrooms, all configured based on Vaastu principles cater to the large family's requirements. Each room unique in its character offers the family ample ambient spaces to feel right at home.
.
.
Whilst the social spaces become the heart of the home, where the family can gather over meals, for parties and spend some quality family time, the bedrooms become personal abodes designed to cater to specific needs of each member. A remarkable material palette throughout the home bestows each space with a unique charm: a combination of Italian marble and wooden flooring, and compelling wall surfaces weave a story of grandeur, elegance and drama throughout.
.
A 75mm mint sandstone wall in the living room, completely sculpted in the form of thick waves creates a visual delight and is undoubtedly the highlight of the home. In a common hall, beautifully sculpted diagonal lines in mint white stone add drama.
A rich wooden palette composed of diagonal wooden planking along the wall with sleek lighting elements and wooden flooring furnishes yet another social space. White Vietnam stone with Mother-of-Pearl inlay adorns the ever so gracious Puja room.
.
The kitchen completely sourced from China and done in matt glass facia and a grand dining area with beautiful wooden lights over a large dining table and separated by brown tinted sliding doors efficiently caters to social gatherings.
.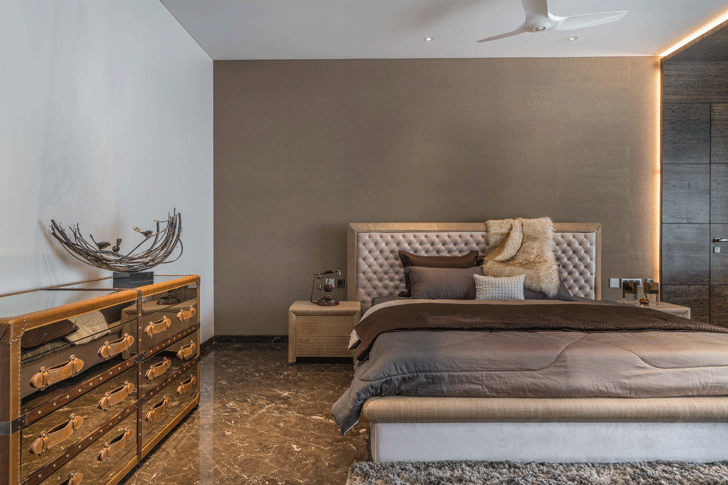 .
The bedrooms are a distinct narrative for each resident. Spacious and airy with ample light through large windows, each bedroom has an individual character.
.
The large master suite with black Matrix flooring and wooden panelling is dignified. A soothing palette of white and pink creates a light and subtle room, understated yet classy. While a dark palette in another room, composed of wood, chains and black stone serves the occupant's liking.
.
The stylish and classy furniture pieces sourced from China, Italy and Turkey
and
discerningly selected upholstery further enhance each of the spaces as large floor-to-ceiling openings usher in abundance of natural light.
.
The step-out spaces provide access to the lush greenery outside and views of the entire city, adding value to the residence. The living space overlooks a garden in the centre of the house, while a party room steps out onto a spacious terrace garden.
The residence is a beautiful amalgamation of chic modernity and charming Vaastu compliance befitting a progressive family with traditional roots.
Design Firm: Think Designz
Principal Designer/Architect: Varun Mehta and Rahul Jain
Built-up area of project: 15000 sq. ft.
Location: Jubilee Hills, Hyderabad