By Vinita Wagh
Photography: Andre J. Fathome; courtesy Archohm
Read Time: 2 mins
The Design Village (inset) Ar. Sourabh Gupta
Noida's studio Archohm resurrects a derelict and defunct Kattha (catechu) factory and repurposes it to house an interdisciplinary institute -The Design Village.
After closing its operations of 27 years in 2014, the factory lay abandoned till the institute decided to move in. In this classic example of adaptive reuse, the designers preserve the intrinsic traces of the building's first life while its transformed architectural expression makes for an unconventional educational environment that inspires.
.
.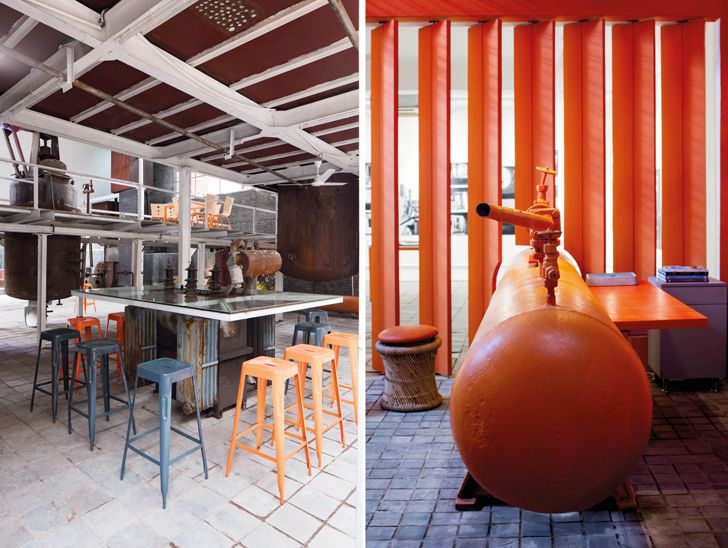 .
Born out of Alan Berger's 'drosscape' concept and a belief that architecture is continual and industrial remnants are of historical worth, the design aims to breathe resilience into the otherwise ephemeral space.
.
.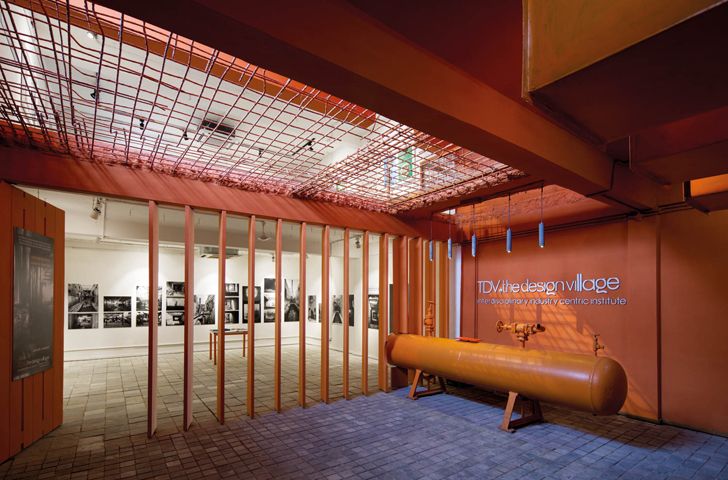 .
The program enhances circulation to unite and segregate areas by function; by collating voids and bringing in natural light to create interaction spaces. The old machines are now artistic installations - symbolic markers of the past. Existing structures undergo retrofitting - while columns and beams are removed and reused, existing mezzanines are left untouched, with their original attributes. Preserved emission imprints and chemical/by-product stains are a celebration of the building's yesteryears, as they thrive alongside the new palette of raw pine wood, glass, cement plaster, and steel.
.
.
Each of the former spaces of the factory
have
a new identity: the double-
heighted
volume and the skylight of the condensation room accentuates the verticality of the space and makes it fit to be the founder's room. The erstwhile cold storage spaces are now a library, computer lab and information
centre
, complete with low-height reading and stack spaces, and light entering through large circular openings.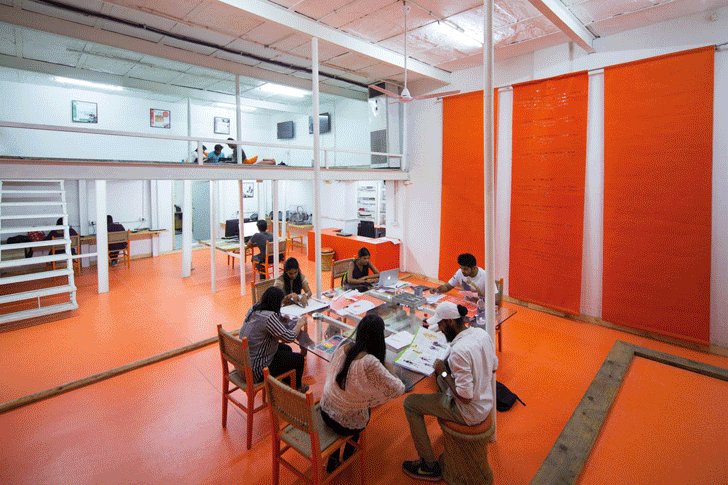 .
The machine room now acts as the pivotal axis of the campus keeping the functional spaces from the interaction ones; leading to the cafeteria, with the amphitheatre, stepwells and faculty spaces hinged around it. On the other hand, the pump room acts as the faculty room and the machine corridor, spruced with light wells and plantations, functions as a gallery for the mentors – a faculty common area with ancillary spaces.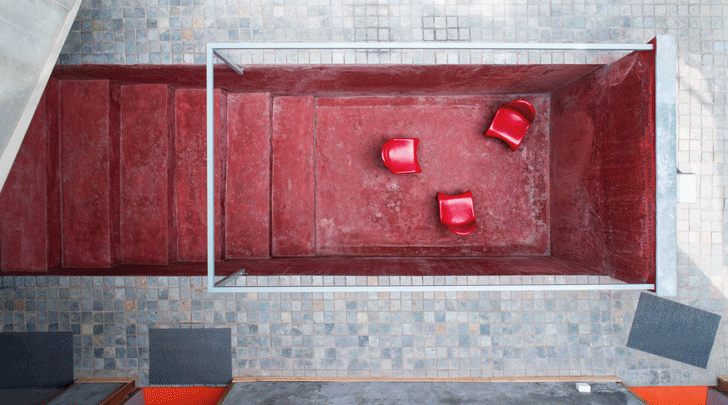 .
The result is a striking portrait of orange and grey that illustrates the potential and power of architectural reinterpretation – a representation that not only preserves the spirit of the place, but where the old co-exists with the new to convey fresh meaning.
Client:

The Design Village
Principal Architect:

Mr. Sourabh Gupta
Design Team: Subhashish, Harimohan Singh, Soumya, Amit Das, Pawan
Built-Up Area: 2875.0 sq. m.