By Vinita Wagh
Photography: Courtesy the designers
The Design Alley's aesthetic for this Aurangabad home is a potpourri of elements that harmonize appealingly to create an original, hybrid look.
Revealing nuances of the family's personality, the design captures the essence of their Rajasthani origins within a contemporary setting. Acknowledging the absence of exterior views, the designers have focussed on creating an interior ambience that emanates from a light grey canvas; against which patterns, textures and colours pull all the internal elements together to add pictorial weight to spaces. While the use of veneer adds warmth, soft furnishings and accessories break the monotony. Neutral touches and distribution of elements – both visually and physically, makes for a careful balance of styles.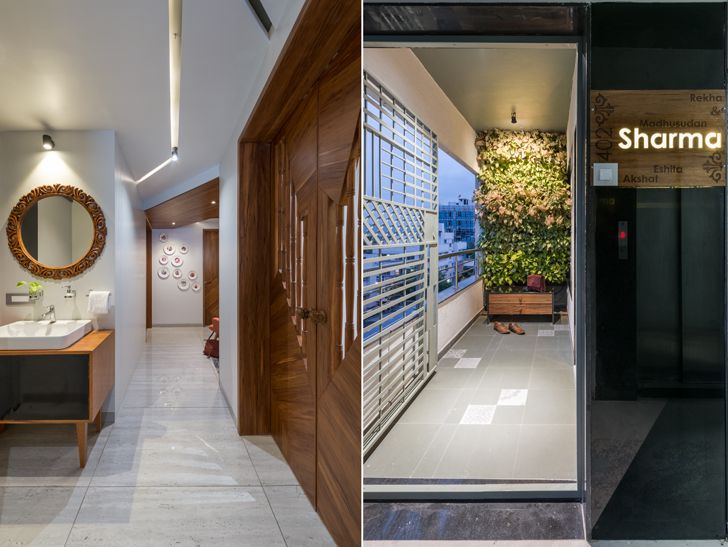 .
.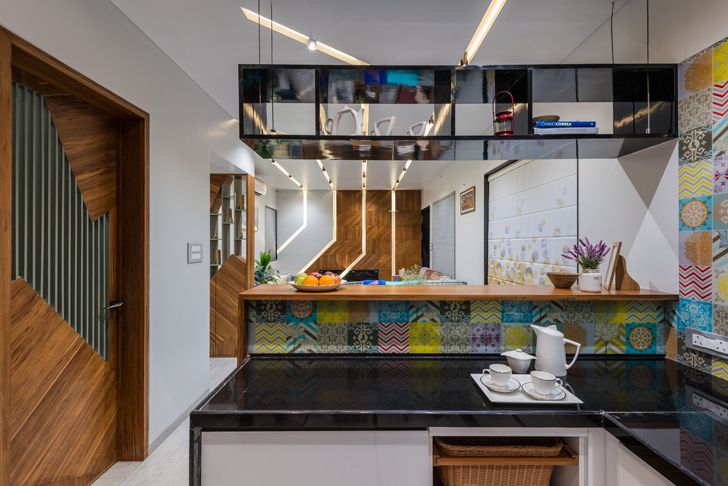 .
.
.
Although the L-shaped seating and the breakfast counter breaks the functional linearity of the open living, dining and kitchen, the seamless ceiling unifies the spaces. Linear illuminated niches along the ceiling and onto the veneered wall create strong sight lines and emphasise the adjacencies. Anchoring this space is the furniture - with its fabric motifs, colours and details. Blending these with the kitchen dado patterns of a different style and scale, the space exudes an eclectic look. Similar niches and panelling transform the passageway ceiling, while the ceramic photo plates, the handcrafted wooden mirror and the mandir (temple) door add drama. A nook at the farther end is a reading corner that incorporates colour through transient elements.
.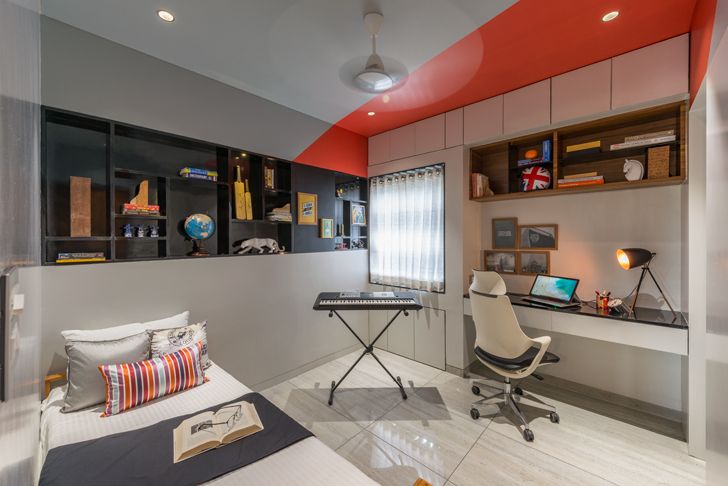 .
.
The bedrooms speak of the individualities of the occupants. Repeating wooden accents across all the rooms creates a unified look. The master bedroom attributes its uniqueness to a combination of floral chairs and Rajasthani themed paintings against a royal blue wall, with a dressing that highlights a designer mirror and custom basin counter against a patterned wall. The son's bedroom radiates a peppy vibe with its colours of black, grey and orange, that accentuate quirky wall pieces and accessories. The daughter's bedroom, in contrast, is a play of triangular patterns in pastels and minimalistic furniture against dream themed paintings - an overall tranquil setting.
As such, by allowing the functional elements to carry the room and set the tone for accessories, this stimulating interior is a fresh collage of all things old and new.
Design Firm: The Design Alley Studio
Design Team: Sarang Patil, Shweta Patil & Syeda Naila
Carpet Area: 1200 sq. ft.