By Marina Correa
Photography: Subin Selva - the grid studio; courtesy the firm
Read Time: 2 mins
.
Welcome to a whirlpool of scintillating light, sound, and space in this specialty digital fabrication project designed by Studio Emergence…
Located in Bandra, Mumbai - the hub of parties and nightlife, Vortex as the club is christened, reflects a futuristic space. Adhering to the client brief, Studio Emergence has literally created a vortex-like feel using illuminated curvilinear portals that get reflected onto the glistening marble flooring – thereby forming a multitude of brightly lit orbs that cull out an immersive experience for patrons.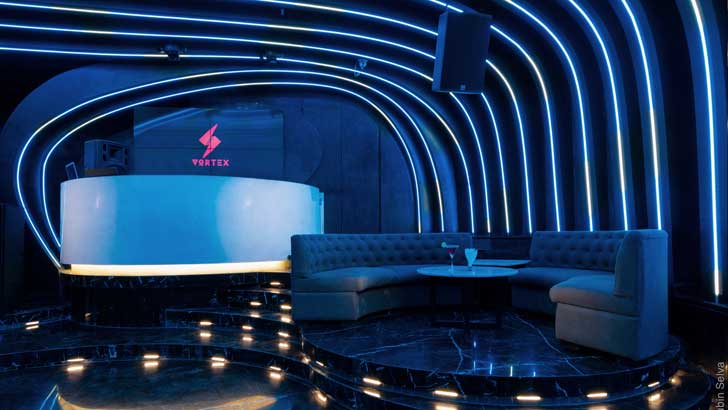 .
.
"We performed a series of parametric experiments before settling on this one as we wanted the space to be a seamless 'vortex' for the end-user," say principal architects Khushbu Davda and Seeja Sudhakaran, who have a penchant for geometry in design and give precedence to a parametric design approach.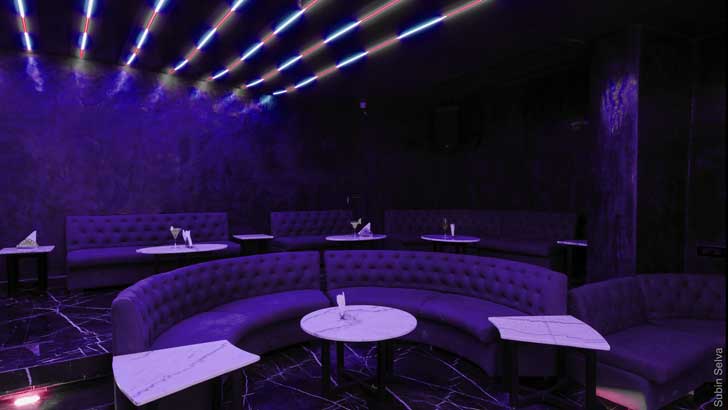 .
.
While a fluidity in design negates the ungainly sighting of beams and columns, precision-detailing abides as each portal is integrated with music through a high-tech solution by German-based company, Madrix (a lighting company which links music with light effects) – a technology that is accommodated using daisy chain wiring (multiple devices are wired together in sequence or in a ring) throughout the premises.
.
All the portals are digitally fabricated with CNC machines. Breaking down the process further, each portal comprises of four individual parts made offsite, numbered and then carefully assembled onsite. Next, they are fixed with flexible MDF sheets and aluminium sections to accommodate music-syncing-with-light technology.
The main material used for the entire space is MDF as it is known for its acoustic properties, flexibility and can be 'CNCed', which was the primary requirement for digital fabrication.
.
Besides an obvious dance floor, the 1,800 sq. ft. trendy club houses a swanky bar, DJ console, semi-circular seating arrangements, VIP area and washrooms, making for an interactive and immersive experience.
Design firm: Studio Emergence
Carpet area: 1,800 sq. ft.
Principal architects: Khushbu Davda, Seeja Sudhakaran
In collaboration with: Studiobackinblack
Project location: Bandra (W), Mumbai