By Archit Raj Thapar
Photography: Courtesy SSA Design Studio
Read Time: 2 mins
.
SSA Design Studio sculpts a detail-oriented, rich and spacious home out of an 800 sq. ft. 2BHK apartment in suburban Mumbai…
With a mandate to provide convenience of entertaining guests in the most comfortable way possible, while providing a non-dated aesthetic outlook, SSA Design Studio adds utility to every space in this home with strategic touches of different kinds of stone.
Surrounded by buildings from all sides, the inwardly designed home sports an overall white palette that enhances it visually. Optimising on space utility, one part of the living room window is endowed with a window seat, whilst the other part is transformed into a French window to create a faux balcony look and enhance the availability of natural light.
.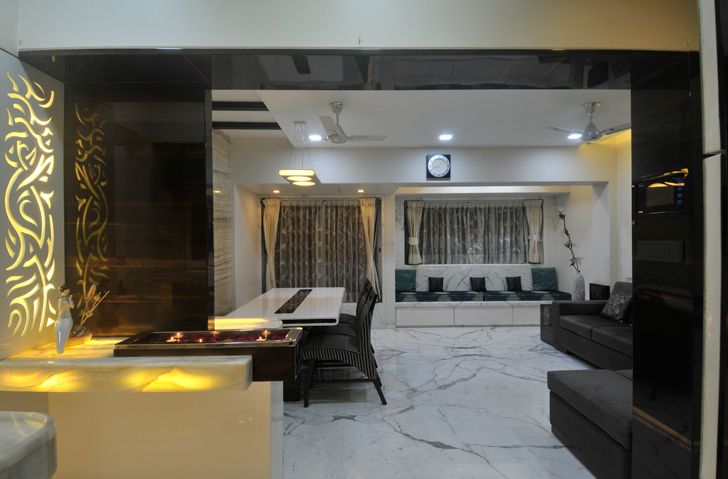 Add caption
Since the client is an entrepreneur dealing in Italian marble, the designers have carefully chosen different kinds of stones for different areas much to the delight of the owners. For instance, white Statuario Italian marble for flooring is complemented by Silver Travertine Italian marble cladding on the dining wall. The use of stone is not limited to just floors and walls, but extends to jali cutwork, inlays within doors and cabinet panels, which give the space a rich ambience.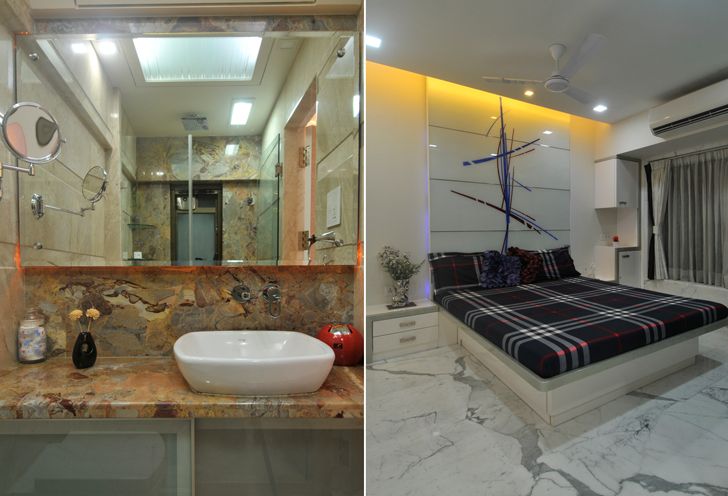 .
.
.
The USP of the project however remains the composition of finely crafted details with ambient lighting, each unique to the function of the space. The children room for instance has a fluid design concept with the wall blending seamlessly into the ceiling to visually make the room look larger than its actual size. Add to that color changing LED mood lighting and we have a chic looking space.
.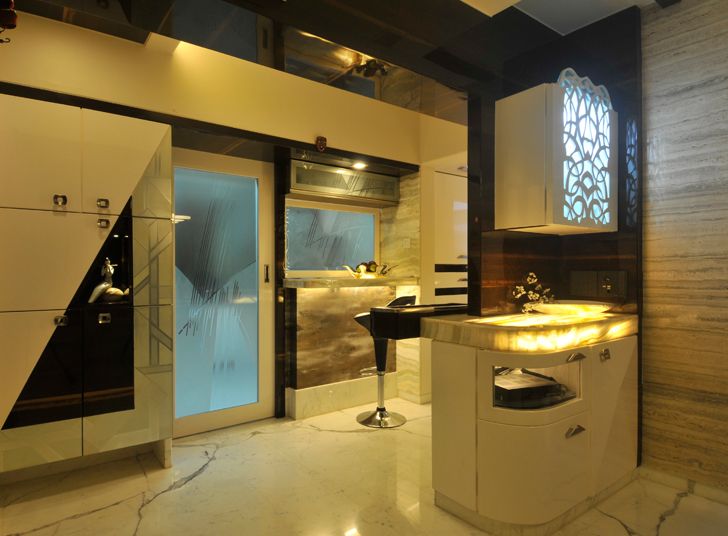 .
Applying the same principle to the kitchen, a mini breakfast counter with a roll top designer glass shutter and ambient light detailing above and under the counter helps to partially open it up.
A seamless fusion of materials and design intricacy aid in delivering a simple and elegant space to the home owners.
Design Firm: SSA Design Studio
Principal Designer/Architect: Sandeep J. Shah & Anita S. Shah
Associate Designer: Beena Gohil
Built-up area of project: Approx. 950 sq. ft
Carpet area of project: Approx 800 sq. ft
Location: Andheri, Mumbai