By Annie Aggarwal
Photography: Courtesy HPA
Read Time: 2 mins
Ahmedabad residence (inset) Ar. Hiren Patel
Hiren Patel architects create an equilibrium between the natural outdoors and interior architecture by chiselling a 4049 sq. ft. weekend home as a single volume on a generous plot…
The spatial planning of the house is a hierarchical play of closed living spaces, semi-open verandahs and open gardens, while a double-height living, and dining space accommodates a courtyard with lush Neem trees, blurring the boundaries between built and un-built.
.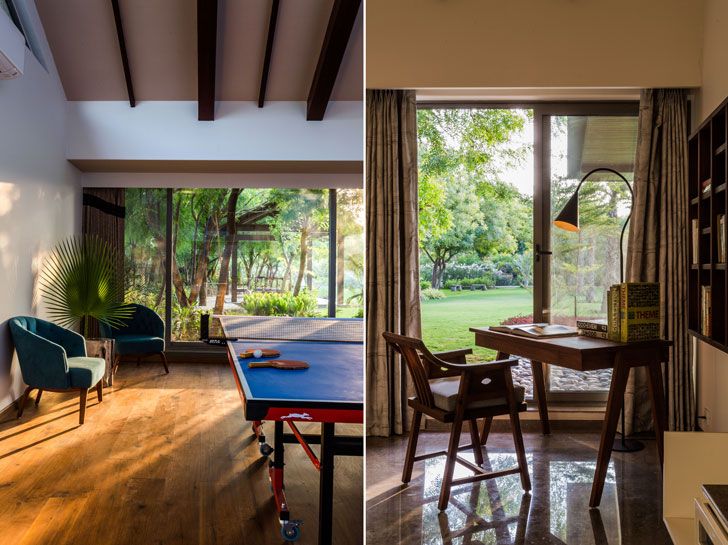 .
Each indoor space is connected to the outdoors either visually or physically. The common living spaces step out onto a semi-open verandah, as huge glass facades allow for nature to flow into the entertainment room and master bedroom, dresser and even the bathroom, creating an experience that goes beyond bare functional requirements. Again, going beyond the apparent aesthetic, the outdoor connect merging landscape and interiors caters to temperature control and ensures spatial comfort.
A natural material palette of marble and wood along with a sloping roof augments the timeless and natural character of the house, while a mix of hand-crafted and off-the-shelf furniture and works of art promote local craftsmanship and artists.
.
.
The semi-open spaces reinforce the concept of outdoor living, allowing the residents to reconnect with nature viz., an oversized verandah, well-organized beyond the living with comfortable furniture serves as a platform for multiple activities to take place outdoors; a gazebo in the garden offers a delightful retreat amidst lush landscape; and quaint furniture pieces upon colourful patterned tiles for flooring and a sloping roof lend the space its ageless character.
.
.
.
Consequently, the outdoor becomes the essence of the home as each space within, spills outward, connecting physically and philosophically with a natural pond, vegetable garden and gazebos all linked by pathways for a one-of-a-kind envelopment. The home exhibits a synchronized character, growing richer day by day, as the landscape around it grows.
.
Project: The Oblique House
Architect Firm: Hiren Patel Architects [HPA]
Site Area: 32148.00 Sq. ft.
Ground Floor: 4049.00 Sq. ft.
Location: Ahmedabad, Gujarat, India.