By Rutvi Ashar
Photography: Jesal Shah & Prakash Raimangya; courtesy Kavan Shah Design Studio
Kavan Shah Design Studio (KSDS) chisels an inward-looking home in suburban Mumbai, ushering in the feel of warmth and luxury in the busy concrete, suburban cityscape…
Beginning with minor civil alterations to the layout to open the semi-public zones and privatise the intimate areas, KSDS maximises the available space by cladding wall and floor surfaces with interesting texture contrasts that are hard to ignore. Working on a brief that demanded understated luxe comfort, the designer maintains the delicate balance between the choice of colours and materials despite playing with an assortment of materials and statement pieces.
.
The 3,200 square foot apartment has been dressed rather tastefully in a monotone colour palette, with walls painted in muted shades of grey and blue finished with over-sized geometric shapes in shades of grey with rich brass inlay. Part of the brief called for the creation of a characterful entrance that would be warm, welcoming and naturally leading guests to the living room via a long corridor that runs the entire length of the apartment dividing the space in two. It also lets in daylight from the windows at either end, softly filtering through the home in a soothing shimmer.
.
In the children's bedroom, a jejune house-shaped timber frame brings in an element of lightheartedness, complemented by splashes of colour in the furniture and rugs.
.
.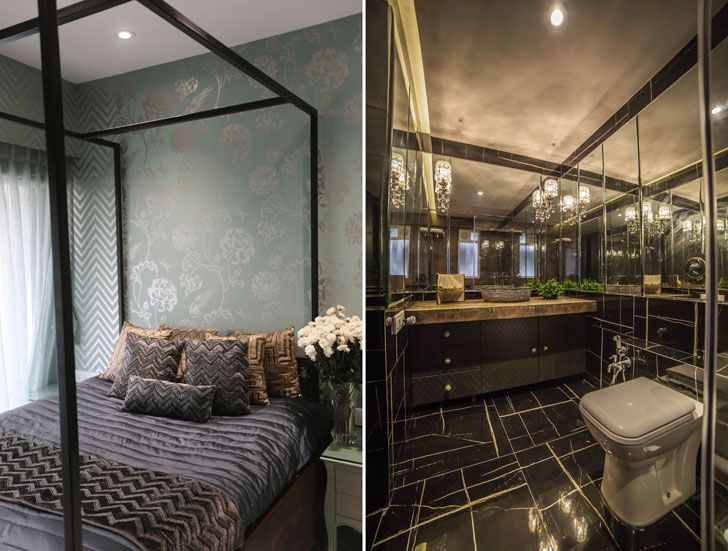 .
While the master suite is cordoned off with a dark wood panelling and hosts a small home office for convenience, the third bedroom sports a fourposter with an aura of a bygone era.
Statuario Marble, Teak wood, Cement IPS, Sabyasachi Wallpaper, Italian chandeliers and panelled dark wood constitute the palette against which different areas of the home are modelled reflecting a characteristic European look and feel. The home in its ever-growing state celebrates some finely sourced statement pieces that blend in whilst retaining the genial and evolving character of the space.
Design Firm: Kavan Shah Design Studio
Principal Designer: Kavan Shah
Carpet Area: 297.28 square meters (3200 sq. ft)