By Beverly Pereira
Photography: Bharat; courtesy the architect
Read Time: 2 mins
Luxurious home by Atrey & Associates (inset)Ar. Arun Sharma
Atrey and Associates integrates nature into the modern, ultra-luxurious aesthetic of a capacious home in New Delhi…
The duality of man and nature is brought to life by merging a front-facing landscaped park with the Kailasha residence in Pitampura, New Delhi. But the two-storey family home isn't just a tired attempt to replicate the freshness of nature indoors. The team, led by principal architect Arun Sharma, ingeniously brings various elements of nature into the home, in the form of landscaped gardens, calming water bodies and a general sense of airiness.
.
.
A curvilinear concrete form wraps the terrace garden on the first floor and the bedroom on the second floor. Rather than standing in stark contrast to the home's natural setting, it lends fluidity to the the otherwise boxy structure, adding a touch of intrigue to the façade.
.
.
.
Despite the presence of well-configured spaces, the open-plan home has an airy feel, in part due to the presence of balconies, shaded-areas and in-between spaces for ample natural ventilation. Non-reflective surfaces also serve to reduce radiated heat.
Glass, employed generously for its transparency, finds form in various instances. A glass staircase in the double-height master bedroom on the ground floor leads to an open spa area and walk-in closet connected by a glass bridge, augment spatial volume.
A live tree juxtaposed against a 26-ft high courtyard wall stands between the children's bedrooms on the second floor, both of which employ glass sliders that open to landscaped areas. A guest bedroom and lounge on the third storey looks into the courtyard below.
.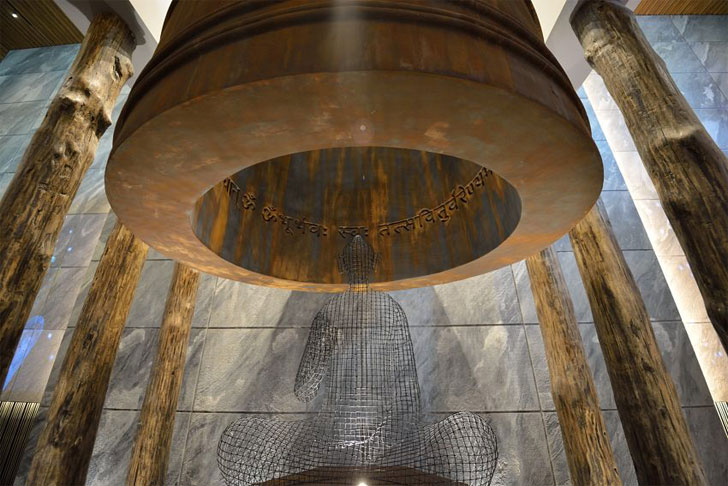 .
With all the trappings of an ultra-luxurious home - think modern furniture and chandeliers sourced from international style makers - ample wood work brings in grounded appeal. Larger-than-life pieces of art and sculptures against heavily textured stone walls and an all-white stone flooring further add a unique identity.
In the basement, the bar becomes a focal point with a raw wooden log customized into a little fountain that flows into a water body in the outdoor bar with a live tree, yet again blurring the line between indoors and outdoors.
By inextricably linking the architecture and interiors to nature, Atrey and Associates manifests a comfortable living space with a micro-climate and a soul that speaks to the home owners.
Design Firm: Atrey and Associates
Principal Designer/ Architect: Ar. Arun Sharma
Location: Pitampura, New Delhi