By Sonal Mamoowala
Photography: Fabien Charuau; courtesy ShroffLeon
Read Time: 2 mins
.
Design firm ShroffLeon demonstrates how judicious reconfiguration of internal spaces and an all-white palette transforms a seemingly ordinary home into an enviable abode…
An old 1100 sq. ft. sea-facing apartment in South Mumbai openly beckoned a makeover and the homeowners rose to the occasion to have architects and designers, Kayzad Shroff and Maria Leon infuse the place with light, luxury and a warm contemporary ethos.
.
.
Elaborating on the simple concept of enhancement and illusory expansion of space, almost all internal walls are re-positioned with careful attention to detail for maximum optimisation of space, creating niches and alcoves for convenience. The old 3-ft x 4-ft windows stand replaced by French windows ushering in abundant day light and opening out the apartment to spectacular vistas.
Well demarcated areas host modern minimalistic straight-lined furniture that complements the simple, flat false ceiling with services cleverly camouflaged; as horizontal and vertical lines from the furniture seamlessly extend into powder-coated metal strips and grooves on walls for creative, continued co-ordination.
Essentially an all-white palette punctuated by myriad quirky accessories, subtle textures in the painted or papered wall surfaces add a fleeting element of interest, while bold vibrant hues are deliberately used as accents to reflect the personality of the user in each room.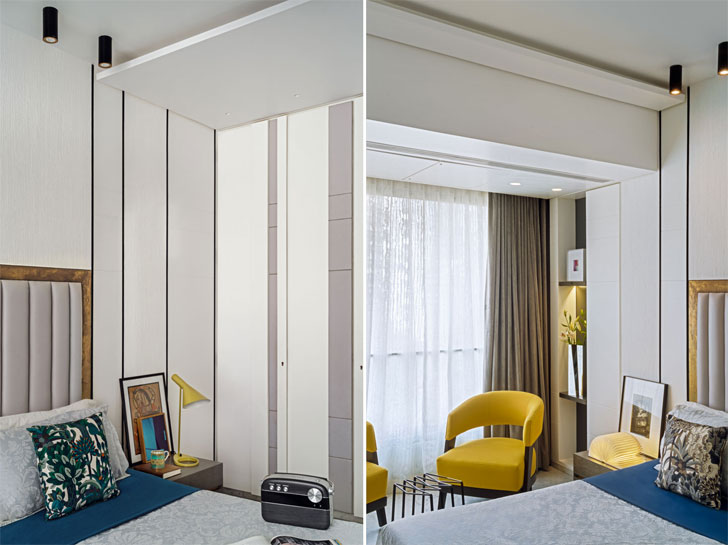 .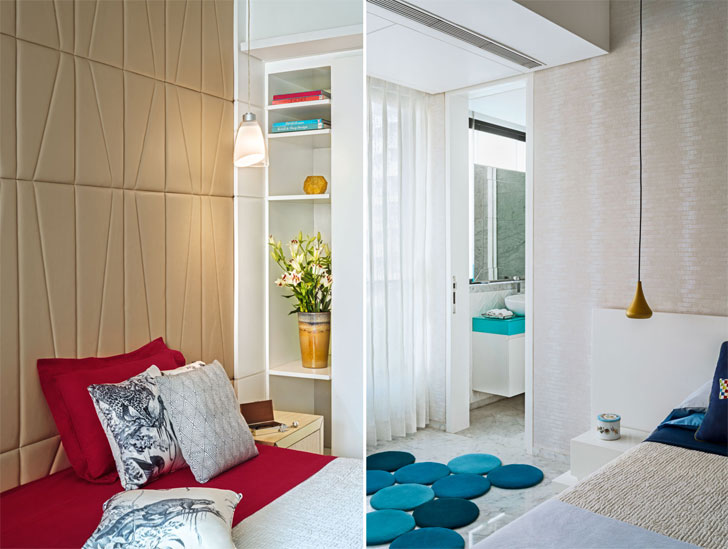 .

One observes subtlety in choice and application of materials viz., the white Italian Venatino marble makes a perfect backdrop for splashes of coloured artefacts around; sofas dotted with unusual geometric and floral prints, self-narrating cushions that double as works of art and the like. Leather panelling, white glass, white zinc paint along with white Roman blinds blend in poetic harmony, while selective furnishing and accessories like a teal floor-rug enliven the space. Generous use of mirrors and Bird's Eye grey veneer helps maintain serenity in monotony.
Crafting the space for various ambiences are unique, eye-catching light fittings in form of pendants, spots, recessed lights and table lamps strategically placed, vying for attention. The refurbished apartment stands apart for its aura of understated chic, airy environs without compromising on the warmth that is characteristic of home and hearth.