By Beverly Pereira
Photography: Tejas Shah; courtesy the architect
Read Time: 2 mins
Architect Amit Srivastava takes us for a walk through his minimalist, humble abode in Vadodara…
A firm believer in the power of simplicity, Amit's 3000-sq. ft. home for his family of five is a poignant reflection of characteristic architectural poetry. His vernacular approach to architecture and interior design is evident in the all-round adoption of a natural material palette, which, he informs, is a result of exposure gained on his pan-India travels as a child. A fact, perhaps that gives the home its warmth and an inherently timeless yet contemporary appeal.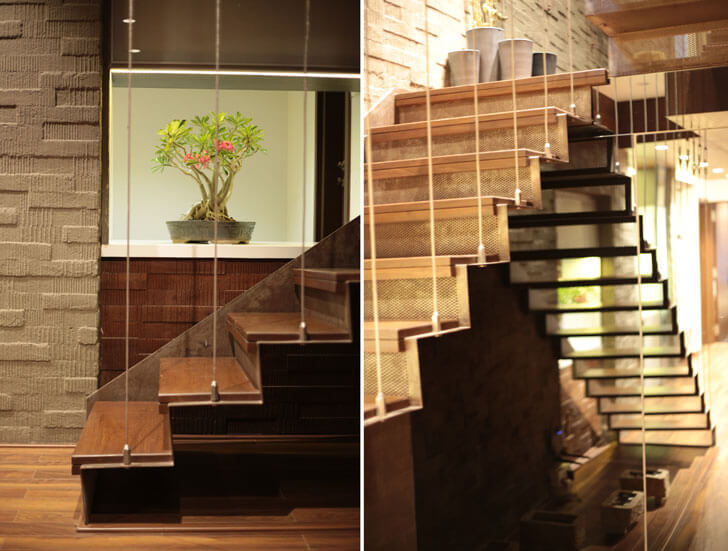 .
Comprising two different floor plates, the original space is turned on its head by puncturing the dining space with a double-height ceiling. Not only does this tie the two floors together for a seamless vertical connect, but also enables the continuous flow of natural light and ventilation into the lower areas of the ground-plus-one storey home.
The warm and homely atmosphere created by the exposed brick-clad façade of the dining space extends to the upper level, resulting in a central cube with an interesting volume. The main circulation areas on both floors are defined by Ahmedabad-sourced hardwood that clads the flooring and creates a well-articulated horizontal connect.
For a spatial change that transformed a dark and congested space into a bright and airy focal area, a suspended staircase fabricated from perforated metal sheet replaces the existing RCC staircase in the 6-ft wide passage. Coupled with the use of bronze mirror, this aesthetic and cost-effective modification brings in transparency and creates an illusion of a larger space.
From locally woven rattan furniture, handmade tiles, Indian mosaic tiles with brass inlay work, cotton furnishing fabrics, and lampshades and rocking chairs that convey an earthy feel, to towel rods refashioned from salvaged wood, a wholly natural palette is evident across the home. Even walls and ceilings finished in raw cement and concrete resin mixture, and scrubbed for a stucco effect, add to the indigenous vibe. Completing the look are wooden stools, terracotta tiles and Bonsai plants on the terrace, 500 sq. ft. of which is strung together with a pergola.
This vernacular approach to architecture and the belief in employing local materials facilitates the return to slow living and the creation of a homely, warm residential space.
Client: Ar. Amit Srivastava
Design Firm: Modi Srivastava & Associates
Principal architect: Ar. Amit Srivastava
Carpet Area: 2800 sq. ft.
Location: Old Padra Road, Vadodara