By Annie Aggarwal
Photography: Sergio Ghetti; courtesy the architects
Read Time: 2 mins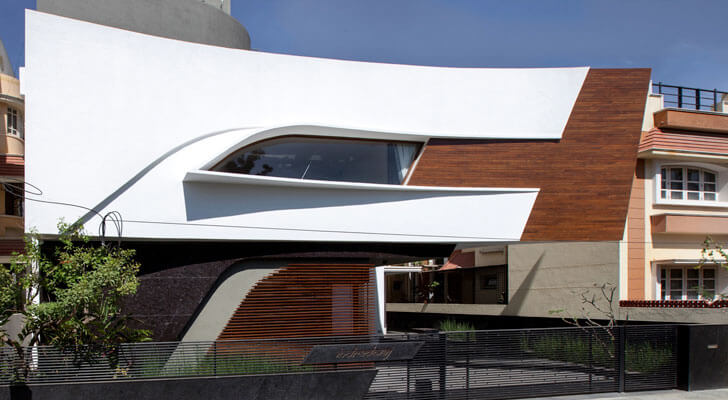 .
Bangalore-based Cadence Architects designs a 4100 sq. ft. bungalow that creates an inward-looking haven for the residents, blocking out the urban vagaries of the burgeoning metropolis.
A sensuous sweeping curve captures the imagination at the first glance, set as it is, amidst a dense and conventional residential fabric. The contemporary ferroconcrete form, curvilinear, composed of clean lines, becomes iconic in context. A large and the only opening punctured in the curved façade accords a strong identity to the building, while characterizing the master bedroom inside with a distinct curvature and abundant light.
.
White stucco finished curves with wooden paneling and louvers create a subtle play of textures. A colour palette of white, black and grey in combination with dark rustic hues of wood renders the built form graceful and elegant, creating a warm and languid feel.
.
.
The fine material palette of stucco, wood and marble as well as the immaculate composition pursues within as built spaces envelope a full-of-life central courtyard that becomes the source of light, ventilation, greenery and openness in the home. Offering a highly sustainable element while converting the home into a sanctuary around a natural setting, the court is characterized by articulated vertical ribs along the edge that allow ventilation while securing privacy and chiaroscuro from the skylight through pergolas.
.
.
Each space is conceived around the central courtyard either visually or physically. A C-shaped plan facilitates a double-height family room and the gazebo-like living to open up directly into the court through sliding-folding fenestrations, while visually connecting the kitchen and upper level bedroom to the green solace. The configuration also adeptly encloses a home theatre and staff room at the corner.
.
A graceful and aesthetic staircase brings unity to the spatial arrangement, and quality as it effortlessly climbs up to the mezzanine overlooking the family room and court.
.
Cadence architects create an efficacious natural habitat within the confines of the residence, allowing a harmonious amalgamation of the built and un-built, inside and outside, offering the residents exactly what they set out to accomplish - an oasis amidst the urban chaos.