By Marina Correa
Images: Sebastian Zachariah; courtesy PKA
Read Time: 2 mins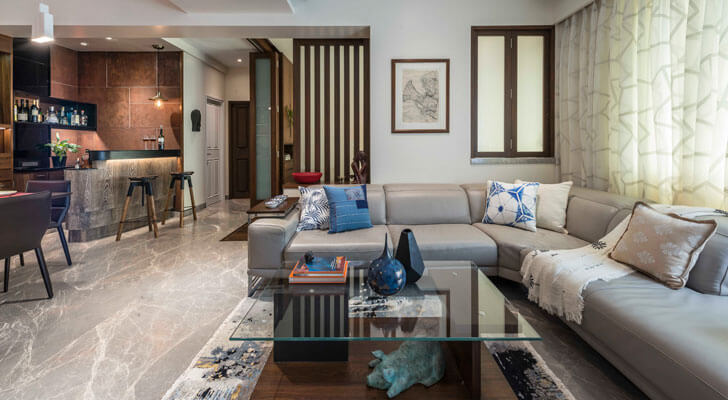 .
With client sensitivity at its core, Studio PKA once again helps an old client expand and refurbish his apartment, reinstating the ethos of an ever-evolving home and hearth…
Located in a tony neighbourhood in South Mumbai, the apartment has seen a gradual growth along with the family: from a small 2BHK to a spacious 3BHK that efficaciously accounts for the family's frequent stay-in guests. Each time, Studio PKA has been the trusted choice. And aptly so too, as the studio's forte lies in its effective space planning, clutter-free designs and precision in time management making these sensibilities the hallmark that keep clients coming back every time they think 'design'!
.
Despite the busy-ness of the neighbourhood, the home is anointed with uninterrupted green views and windy days throughout the year; courtesy its location on a little uphill detour enroute the main street. Accommodating the tastes and requirements of every member whilst remaining cohesive in form -- the residence exudes an easy-going, lived-in and contemporary aesthetic with touches of ethnic charm.
.
An earthy palette of browns, whites, blues and greys forms the backdrop against which pops of colour come forth – always understated, making an undercover style statement through paintings, artefacts, designated space for collectibles, an odd wall painted burnt orange... and the like. A mélange of various materials such as river-washed marble flooring in the common area, hardwood flooring in the private spaces, natural stone and Spanish tiles in the bathroom, treated Corten sheets used as a backdrop for the bar etc. culls out a muted yet sophisticated; cool yet warm palette – effectively juggling the balancing act.
.

The highlight is a multi-functional lounge that can double up as a guest bedroom at will via an arrangement of sliding-folding doors that segregate the space whilst ensuring utmost privacy.
.
.
.
Rich but subdued materiality anoints the home with a timeless character, allowing the family to celebrate life and living, and expand fluidly with the ever-growing needs of its tri-generational family.
Principal Architect: Puran Kumar
Interior Designer: Sonali Mehta
Location: Peddar Road, Mumbai