By Rutvi Ashar
Photography: Courtesy Philtre- The Bistro, Creative Designer Architects [CDA]
Read Time: 2 mins
.
Creative Designer Architects [CDA] draws inspiration from classical French architecture for the interior and façade design of their latest bistro project, Philtre in Gurgaon.
To break away from the plethora of breweries in Gurgaon's sector 29, Creative Designer Architects [CDA] and young architect, Shreya Gera design an eccentric exterior for Philtre, complete with classical European balconies, falling planters and boozing folks, juxtaposed with a post-modern illustration of fresh beer spilling down the facade that instantly draws attention.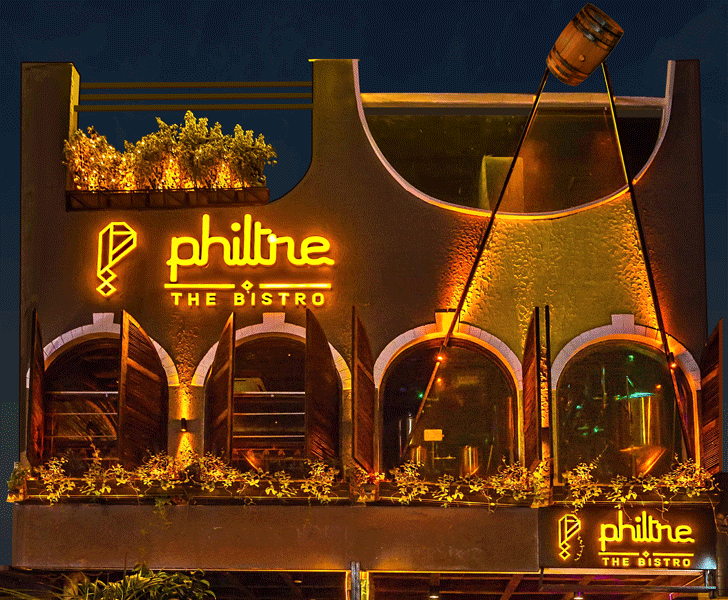 .
If the French name, Philtre isn't enough indication of the client's vision, the interiors surely are! A signature European street ride parked at the ground level marks the entrance while the space tries to replicate more of an outdoor street experience collocated with classical European spirit. The focus is on creating a casual refuge, which defies the distinction between indoor and the outdoor areas. Various elements such as exposed brick wall arches, intricate low height wooden paneling, and column balustrades draw inspiration from the classic French décor and are complemented by modern touches such as suspended wooden street lights, the sumptuous bar and the energizing graffiti.
.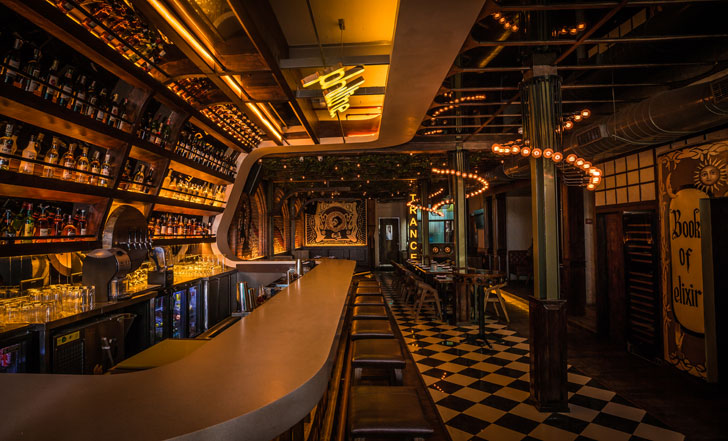 .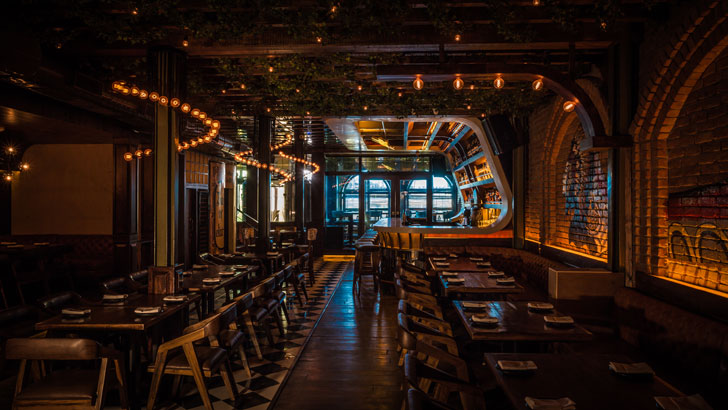 .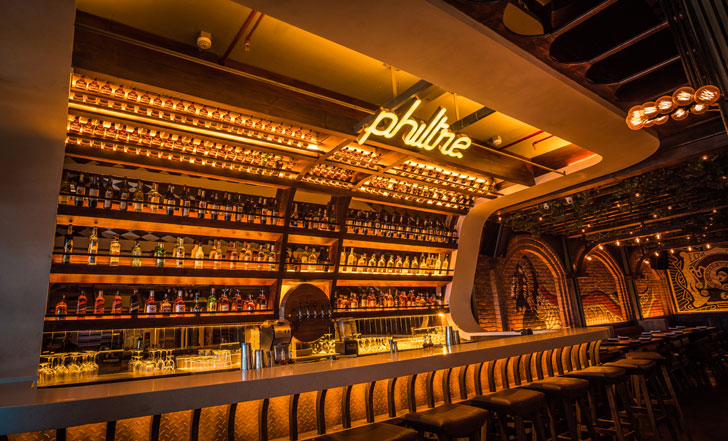 .
A climb up the stairway to the first-floor entrance directs the eye towards a flowing bar display, which wraps around the walls and the ceiling, making a rather prominent statement. The placement of the brew house and the enormous bar, anchoring the whole experience naturally divides and creates multiple zones to accommodate different experiences.
.
.
The chequered black and white flooring stripe extending along the length of the cafe floor speaks of the European ambience, juxtaposed as it is with rustic wooden flooring and slatted pergola ceiling, swathed in dense greenery. This is further complimented by faintly lit fairy lights which almost brings the outdoor inside. Further on, a smoking area with high-bar sitting opens to the exterior that overlooks the magnificent view of the area.
.
.
A tight palette of natural materials ensures a timeless feel and a mystic aura that together, crusade to create a lasting impression.
Client: Sandeep Gera, Neeraj Sharma, Aman Dua
Design Lead: Creative Designer Architects (CDA)
Architects: Shreya Gera, Ravideep Singh
Area: 4600 sq. ft (First floor +Terrace)