By Marina Correa
Photography: Shreya Dheer; courtesy the firm
Read Time: 2 mins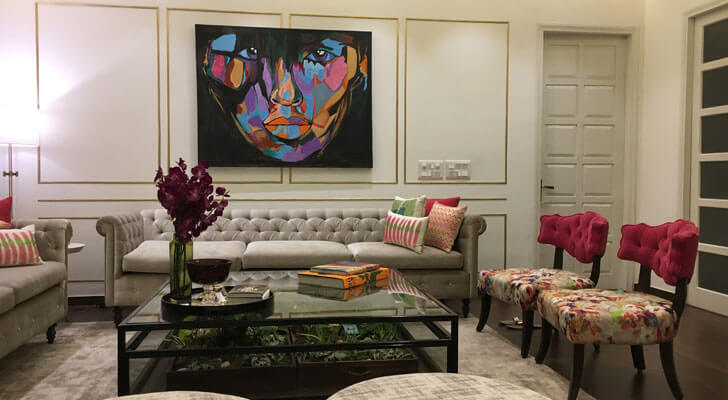 .
Ar. Kavita Singh of Quirk'd transforms a 1,500 sq. ft. basement into a luxurious setting in posh Vasant Vihar, New Delhi…
With the client – a single mother – wanting her stamp of feminity clearly portrayed in her personal quarters, the brief designated colour pink as the predominant tone with due importance to elements of intrigue and aplomb to reflect her personality.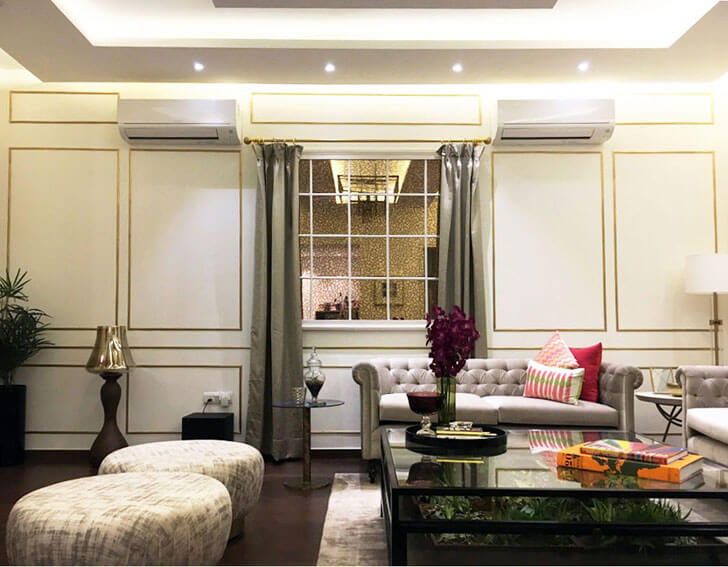 .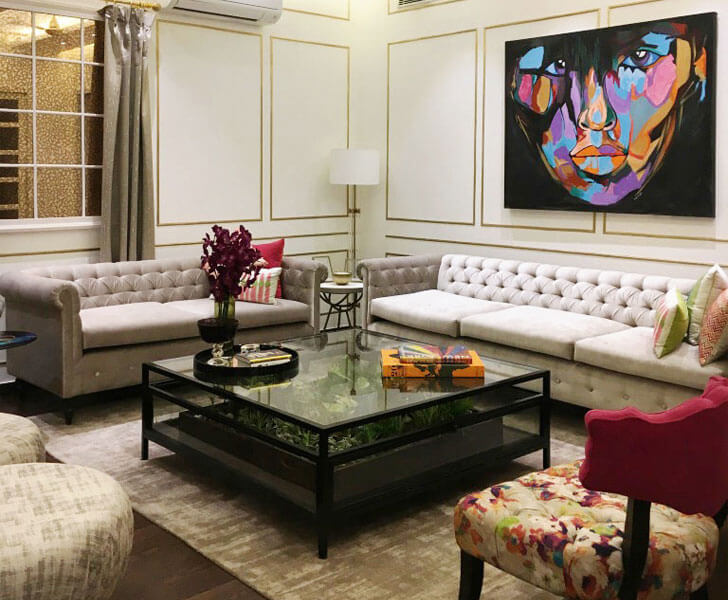 .
Use of smart ideas such as faux windows complete with curtains and embellished with stained mirrors, not only augments the volume, but also makes it far removed from the basement feel. Combined with pretty floral prints, as seen in the upholstery, cushions, and wallpaper, the interior envelope made of MS and wood partitions is panelled with ply and finished in smooth PoP. A luxurious look is imparted by using teak beading duco-ed in matt gold finish to create a wall panelling effect.
.
With a sizeable area allotted to the living room with a capacity for seating twelve; a pantry, breakfast bar, compact dining along with walk-in suite, the basement is transformed into a self-contained unit with a heightened aesthetic belying the fact that it once was a storage and kids' play area.
.
Instead of knocking off items and replacing them, the architect opts to repurpose furniture, thus imbuing character to the space. For instance, the fireplace is lined with multi-colour glass mosaic tiles on the inside with a curated sleeper wood top; the television console and study are given a makeover by changing the finish and adding decorative elements. In an interesting twist, a new cabinet is custom-designed as an antique piece, coated with sage green and fitted with a washbasin counter atop - turning it into the pièce de résistance in the washroom.
.
An intriguing and welcome inclusion is a 25 sq. ft. terrarium snugly fitted beneath the coffee table glass top that adds a touch of green to the interiors. Shades of pink viz., bold magenta and shocking pink are offset with subtle tones of beige, cream and champagne, imparting an inherent sense of luxury and subtle drama.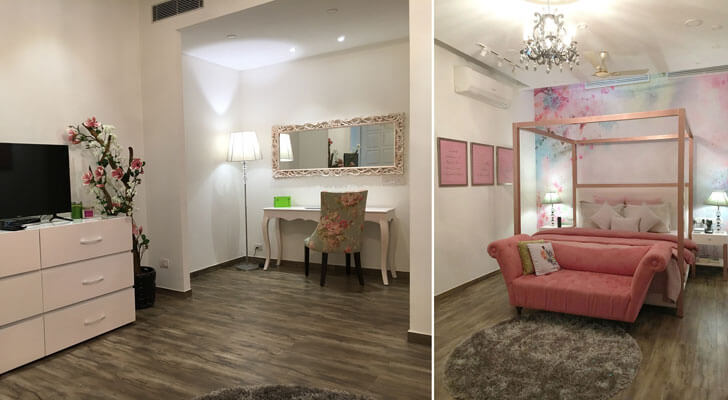 .
The bedroom suite completes the aesthetic - a pastel delight with a rose-pink four-poster bed and custom-designed wallpaper tying the pinks, rose golds, pistachio greens and smokey greys together into a cohesive whole.
Principal Designer/Architect: Ar. Kavita Singh
Location: Vasant Vihar, New Delhi