By Annie Aggarwal
Photography: Vibhor Yadav; courtesy Renesa
Read Time: 2 mins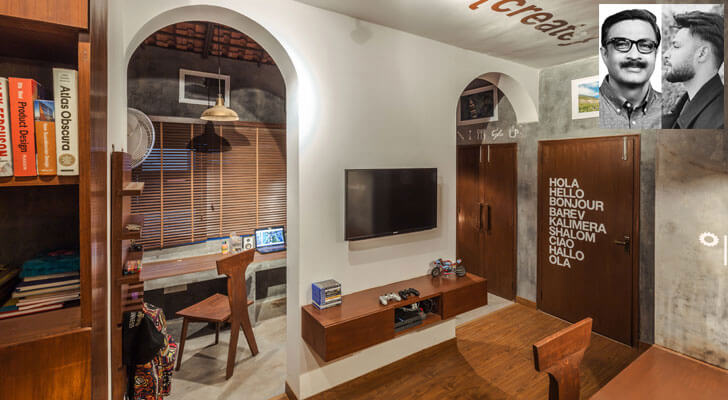 Coddiwompler Studios (inset) Principal Architects Sanjay & Sanchit Arora
Renesa Architecture Design Interior conceptualizes the adaptive re-use of a dilapidated terrace; thus, converting 800 sq. ft. of unused space into a one-of-a-kind photographer's workspace…
Photographer Vibhor Yadav's Coddiwompler Studios borrows its inherent character and charm from its original source. The architects adapt the available structural stability and the essence of the available material philosophy to incorporate new architectural ideologies in the renovation.
.
The space exhibits a modern twist by adding to the original structure rather than removing from it; thus, anchoring the studio to the space. The design manifests optimal and flexible spaces, each with a varying spatial character - from a relatively open networking workshop zone to a private and cozy, narrow gallery-like workspace and an open terrace.
.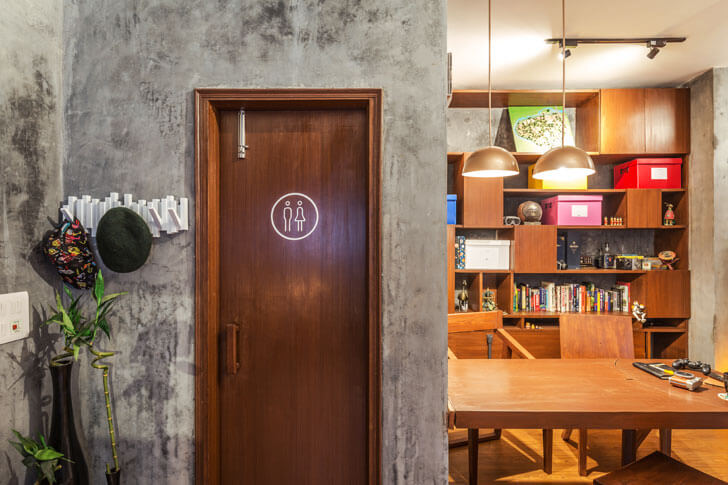 .
Elements from traditional architectural style add a dimension of belonging and authenticity. A spiral staircase leads the way to the studio, while the workspace - a fantastic composition, exhibits play of light through the wall of shuttered windows and blinds, under a charming traditional sloping tiled roof. The spaces connected by archways and walls, and a backdrop for the photographer's work, induce appropriate frames for the photographer to operate and create within.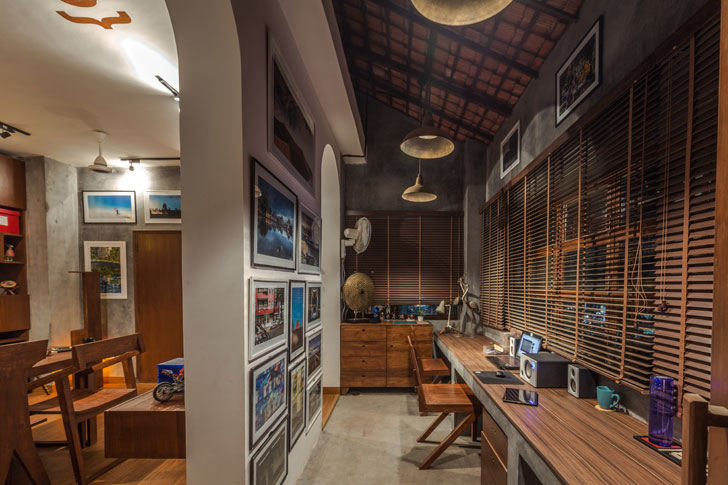 .
.
A raw material palette of rough polished cement plaster marked by the impact of time and used along with reclaimed wood - polished with Tel-paani technique, and a monochromatic colour scheme of brown and grey gives a monolithic character to the entire space.
.
.
The rough wall and floor finishes as well as built-in cement furniture (worktable and seating on the terrace) provide an appropriate base palette for the wooden furniture and elements to run along, its detailed joinery and clear polish becoming features that add character to the space.
.
.
Multi-purpose furniture introduces the intrigue factor in addition to being a practical choice to treat a compact space, whilst up-cycled antique elements like copper lamps, old table fans, etc. along with patterns of wooden shelving and graphics give the studio a quirky edge.
Coddiwompler Studios rightfully exhibits a raw ideology to curate aesthetics and functions of modern use to old dilapidated terraces, promoting the use and cultivation of wasted spaces into modular studios for varying work typologies.
Client: Photographer Vibhor Yadav
Design Firm: Renesa Architecture Design Interiors, New Delhi
Principal Architects: Sanjay Arora & Sanchit Arora
Design Team: Sanjay Arora, Sanchit Arora,Vandana Arora, Virender Singh, Pranat Singh & Mayank Goyal
Area: 800 sq. ft. (Covered +Terrace Area)
Location: Gurgaon, Haryana