By Savitha Hira
Photography: Courtesy the artist
Read Time: 2 mins
Tera saai tujme jyon pahupan me baas, kasturi ka Mirag jyon fir fir dhundhe ghaas
Artist Gayatri Mehta culls out the social relevance of 15th century poet-saint Kabir's verses, translating them into vivid compositions of mainstream socio-economic ethos…
One generally connects with Kabir on a more religious front. Interestingly the artist, who has been enamoured by his couplets (dohas) and poems (pads) and has studied his works extensively, attempts to start a dialogue or even an introverted monologue with self, as she translates select verses into vivid paintings; even installations.
Do patan ke beech mein, sabut bacaha na koi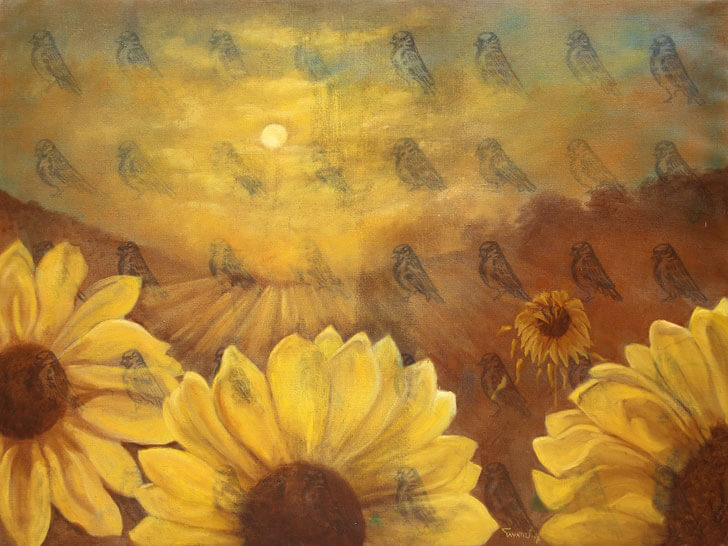 Ghat ghat me panchhi bolata, aap hi Mali, aap bagichaa, aap hi kaliyaa todata
Contemporary times are fraught with woes – of different kinds, aplenty and multi-layered. In a scenario that is simultaneously pulling one towards a progressive lifestyle and offering various crutches to lean on – especially in search of fulfillment, of inner peace, one welcomes art that connects with the sublime. On another note, with more art patrons looking for meaningful art that caters to conversational or narrative tones, a work of art that enthuses spiritual fervour becomes a lifestyle statement of sorts.
Chhattis naubat baajti, chautis bajte raag,woh mandir suna pada, bhiathan laage kaag
Speaking of the works, Gayatri abides that the more she delves into Kabir, the more she can relate the wisdom of yore to the current state of continual discontent. So, the visuals bring to life verses like 'do patan ke beech mein sabut bacha na koi'; 'chhattis naubat baajti, chautis bajte raag, woh mandir suna pada' and 'jaranehara bhi mara, mua jaravanhar…' that hold a mirror to present-day society.
Pothi padh padh jag mua, pandit bhayo na koi, dhai aakhar Prem ka, padhe so pandit hoye
Pothi padh padh jag mua, pandit bhayo na koi, dhai aakhar Prem ka, padhe so pandit hoye
The artist also plays with the underlying romanticism of his verses, translating the famous 'dhai aakhar prem ka, pade so pandit hoye' into two captivating paintings, where passion rules. The thought that a passionate response to one's vocation, dealings in life is the sublime truth and surpasses everything else as the prime ingredient of success.
Guru gobind dono khade, kisko laagu paay, balihari gurudev ki, jinhe Gobind diyo bataay
Laali mere laal ki, jit dekhu tit laal, Laali dekhan mai chali to mai bhi ho gai laal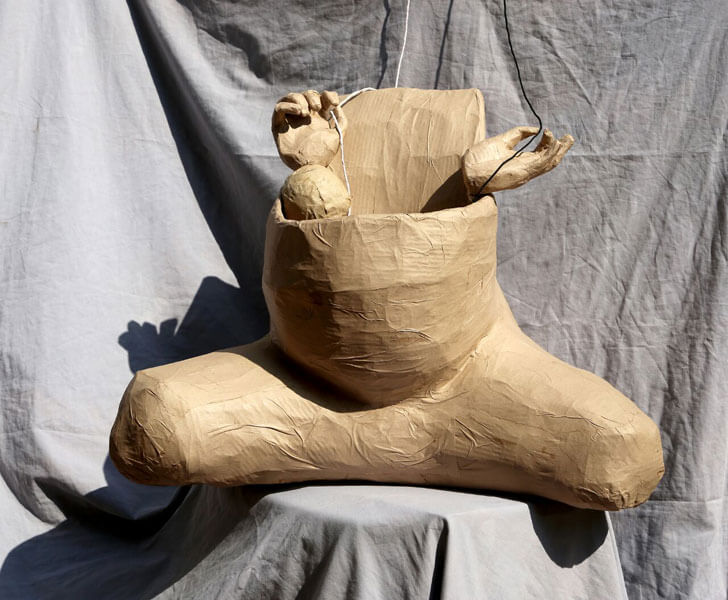 Installation for saai ko bunat nau mass laage, thok thaak kar bini chadariya, zini re zini
Installation for bura jo dekhan main chala, bura na mileyo koi
Art has always carried a message. Since time immemorial art has been a social language that has connected with the masses to convey profound thought, effect change. The highlight of this series is that although the underlying thought is to awaken the inner being in each of us, seeking true sublimity within, there is nothing preachy about the works. The visuals make engaging social commentary, are pleasant on the eye and forge a connect with the viewer, who may want to enjoy them even without the spiritual message. In fact, creating a light-hearted inclusion in the series is a wry take on 'bura jo dekhan main chala, bura na miliyo koi…' in the form of an interactive installation, where one puts one's face through a gaping hole, becoming a part of the art; ponders awhile on the message or treats it as a moment of frolic – as a selfie-point – only to ponder on it, at leisure.
Gayatri Mehta is exhibiting the series at the Jehangir Art Gallery, Mumbai from 6th to 12th Feb. 2018.