By Annie Aggarwal
Photography: Vibhor Yadav; courtesy the architects
Read Time: 2 mins
D'Arclight for DBEL Studio

(inset) Renesa Studio Head- Ar. Sanchit Arora & Founder Principal Ar. Sanjay Arora
Studio Renesa Architecture Design Interior curates a retail experience with a strong aesthetic bent…
D'Arclight for DBEL Studio is a gallery that displays top-of-the-line light fittings and fine art! A carefully curated exercise by Studio Renesa Architecture Design Interior, this store for light fittings ingeniously incorporates an art gallery, largely displaying paintings of the owner, artist Dilraj Bhatia; and open to hosting other art exhibitions as well.
.
.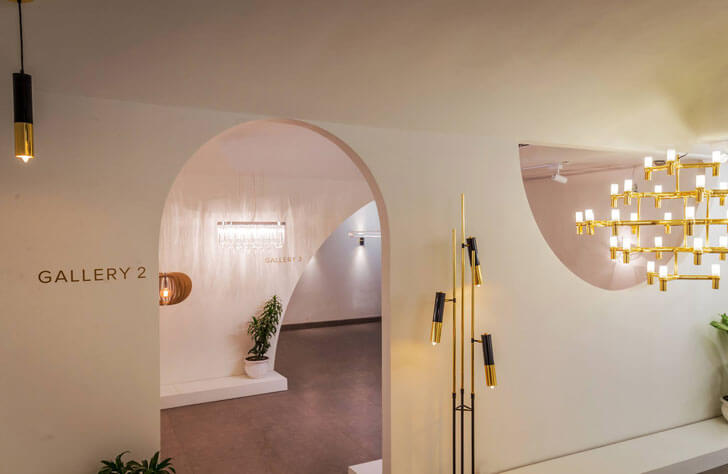 .
Overlapping architecture with art, spaces are primarily curated with lighting solutions, offering customers hands-on options in ambient lighting. Characterized by sculptural volumes flowing into one another, spaces are punctured by multiple arches altering in size and orientation. Cleans lines of arches and open spaces in white offer focal points to enhance the aesthetics of modern decorative lighting as well as scope to exhibit themed lighting. A solid exterior expression continually merges with the carved-out interiors as monolithic curves overlap to create organic frames. As one makes his way through the galleries, one encounters perfect windows showcasing innovative lighting ideas. The curved partitions provide design harmony, drawing people into the space and naturally guiding them further into different zones, while monolithic curves also camouflage architectural aberrations on site.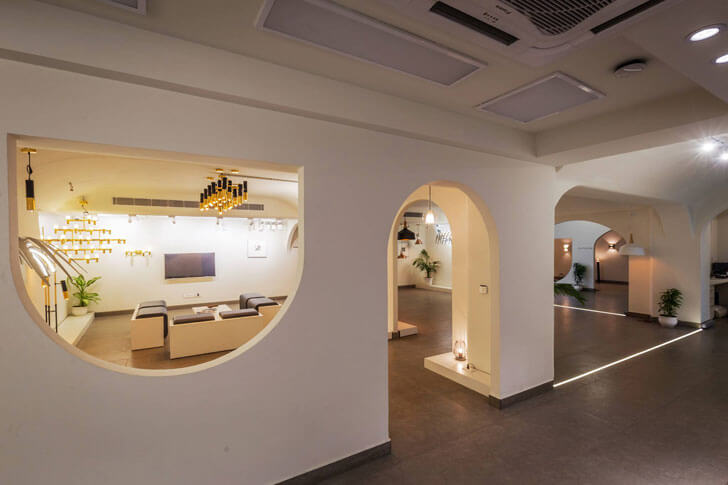 .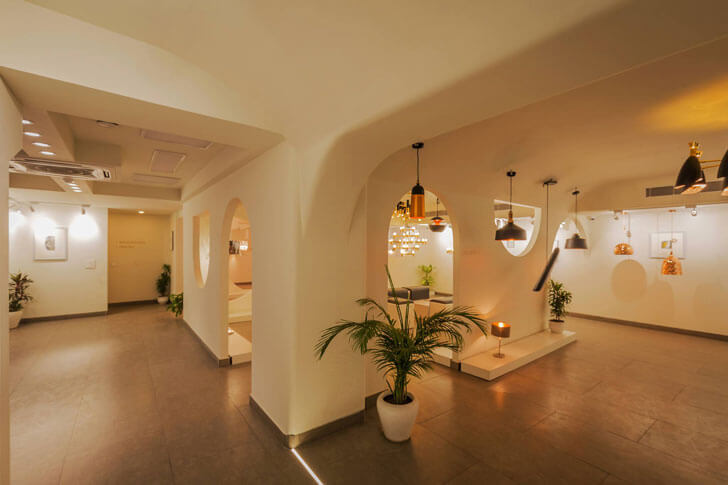 .
As the galleries flow along a continuous, gentle curve to curate a special experience for customers, the arches and curves efficiently accommodate allied functions of the reception, official admin areas under a vault enhanced by LED lighting as well as the pantry and washrooms.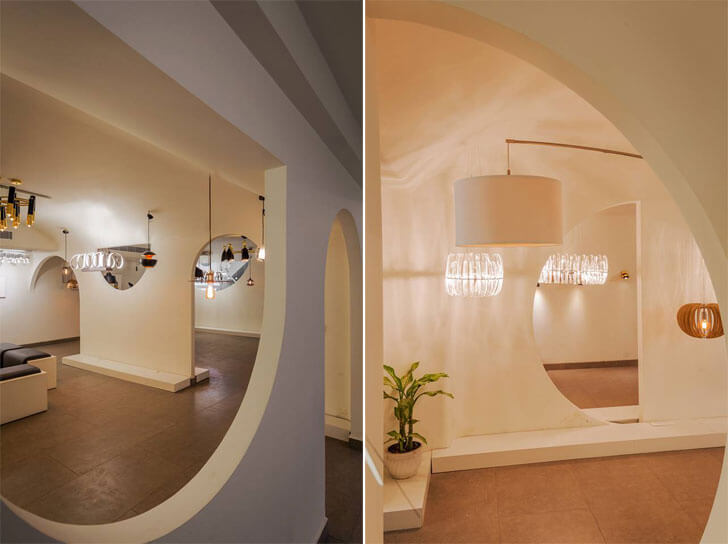 .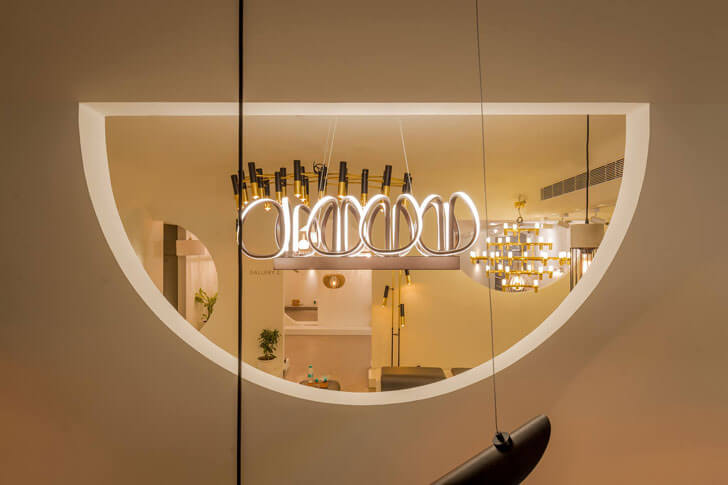 .
.
.
A sequential experience enhances customers' journey through the store as seamless transparency prevails. Customers explore a range of sculptural lighting designs - themed outdoor lighting, rustic and earthy in an experiential room, a magical wonderland of suspended bulbs reflected in arched mirrors along the stairwell, and lighting solutions from classic, elegant and subtle to technical, quirky and modern, all exhibited along with paintings in the background.
.
.
.

The customizable and luxury lighting designs come to life in this overlap of art, architecture and lighting, offering visitors and buyers an experience to remember.
Client - Ms. Dilraj Bhatia / DBEL Studio
Art/ Artist - Dilraj Bhatia
Design Firm: Renesa Architecture Design Interiors, New Delhi
Design Principals: Sanjay Arora & Sanchit Arora - Studio Head Architect
Design Team: Vandana Arora | Virender Singh| Pranat Singh| Mayank Goyal| Dharmender Kumar.
Built Up Area- 3600 sq ft
Location, Kirti Nagar, New Delhi