By Rutvi Ashar
Photography: Courtesy Sankraman Design Studio
Read Time: 2 mins
.
Dine like a Maharaja! The love and hospitality of Indian culture is served in traditional thalis in an eclectic combination of traditional Rajasthan and contemporary design ideas.
A 1000 sq. ft. hospitality project by Sankraman Design Studio for their client, Panchavati Gaurav has reinforced their trademark style of serving traditional thalis with passionate zeal and revered friendliness.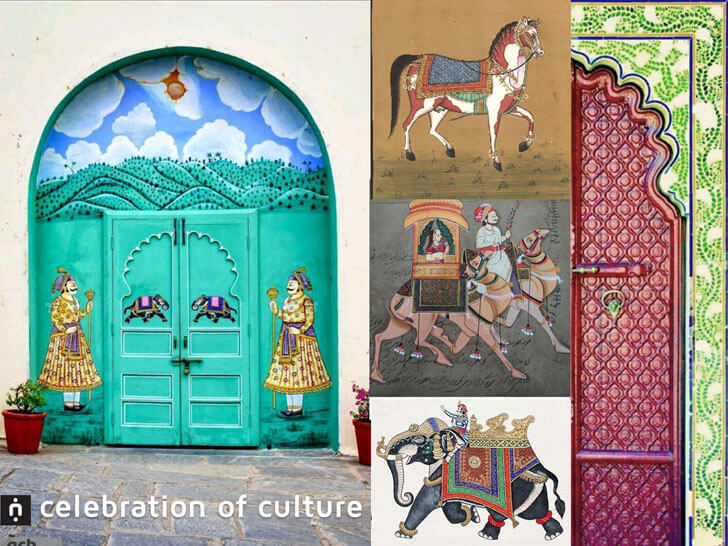 concept
concept
Inspired by the city of Jodhpur, the interior design of this space is a unique blend of a traditional experience with contemporary accessories.
Standing between other competitive restaurants, the façade at the entrance of the outlet is authentic and speaks of what is served here; this is triggered by the walk through the homely, heritage Rajasthani door. Uplifting the idea of typical arches in Rajasthani homes, modern 3d arches act as a signature element on the longer side of a blank, unfinished-plaster wall. This is the main design feature for the restaurant and shows a traditional element in a contemporary way. The arches, which form coves of linear seating add another dimension to the space despite its small area.
.
.
.
The designers also use other accessories such as jharokhas and traditional prints that fit right in with the customised ethnic furniture. Glimpses of nature, contemporary light fixtures and fabrics of the cultural natives expand the space along all three axes! Suspended lights over the central seating area add an element of drama, whilst surface lights on the side prevent overcrowding keeping the look-and-feel as light as possible.
.
.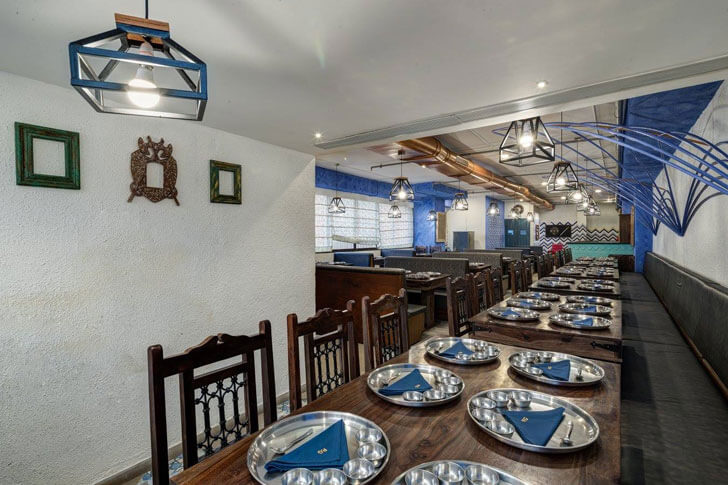 Add caption
With an attempt to not overpower the space with colour, the theme of indigo, white and grey is augmented by accents of highlight elements viz. the burgundy Maharaja chair, stencilled animal print feature wall and the printed roman blinds that balance the overuse of the dull colour palette.
.
The design is an interesting twist between traditional and modern leaving the floor open to possibilities, when it comes to the marriage of both hospitality and food.
Name of client: Panchavati Gaurav
Design Firm: Sankraman Design Studio
Principal Architects: Sapna Lakhe & Shwetambari Shinde