By Shilpi Madan
Photography: Courtesy the designers
Read Time: 1 min 30 secs
.
Hot in the wake of the smashing success of party dresses by the duo, fashion designers Gauri & Nainika bring back good old Hollywood glamour with a debut shoe collection!
At sheer affordable prices, the coterie of haute heels comes as manna for fashion-savvy spenders. In collaboration with an online major, these fun, flirtatious heels promise to breathe in a rush of unbeatable sass and glam into your shoe closet. No matter what you pick from, the charming flurry of textures make the most of the high-heel affair with a splash of glitz and style. Because every woman deserves to preen comfortably!
.
"Our clothes have always been beautiful, feminine and glamorous," says Gauri. "And we have always been obsessed with heels as we are short," laughs Nainika. Gauri & Nainika is a fun, edgy, aspirational brand that draws inspiration from the classic styles epitomised by Audrey Hepburn and Grace Kelly. Their cocktail gowns and flowing dresses in natty, contemporary cuts have been the toast of the Bollywood circuit, red carpet outings and beyond. Pulling a leaf out of their brand inspiration, the duo has designed the shoe collection with signature flair for fashion savvy online spenders. Peep in...
So, nothing succeeds like raven black with a snug hug. Teamed with metallic silver curves, this pair promises to look exquisite on those shapely ankles. The strappy heels bring in a kiss of old Hollywood glamour.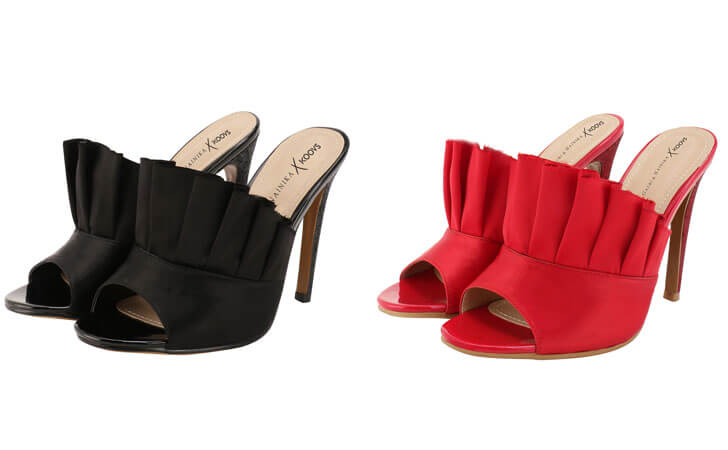 .
Scarlett revs up your glam quotient in these ruffled, feminine slip-ons. The perfect Parisian chic for that splash of glam
Breeze in wearing these black peep-toe slip-ons for a super strut. Nothing succeeds like a darling black. A sexily cut rendition in high heeled mules revs up the glam night sweepstakes.
.
.
A rose for a rose. Edgy, chic, bohemian, the tiny rose detail brings in that touch of oomph and whimsy. Feminine, romantic and glamorous. Scarlet ruffles perfect your poise as a sassy showstopper at every party as you ring in the New Year.
.
Designers Gauri & Nainika
A brooding burgundy licked by gold in limpid, block heels makes for a comfortable, dressy fit for those evenings out. "Velvety, rich and glamorous. My favourite," says Nainika. Glazed gold heels amp up the oomph quotient.