By Annie Aggarwal
Photography: Photographix | Ira Gosalia; courtesy the architects
Read Time: 2 mins
.
A 1350 sq. ft. holiday home in Mumbai by Amit Shastri Architects materialises as an uber luxurious, contemporary space.
The spatial constraints of a Mumbai home have been overcome with unique elements that become part of a coherent design, each element part of a larger whole. The home is a cosy and comfortable haven for the family, yet chic and modern to encourage the social function of the space.
.
.
Opulent finishes render the house glamorous yet elegant. Neutral and natural colours of wood imbue the space with understated charm. Variants of veneer with natural polish such as fumed stripy oak in the living room, fumed eucalyptus in the guest room, dyed ash sage in the children's room, dyed oak in the master bedroom… all contribute to varying shades of neutral envelope and comfortable décor.
.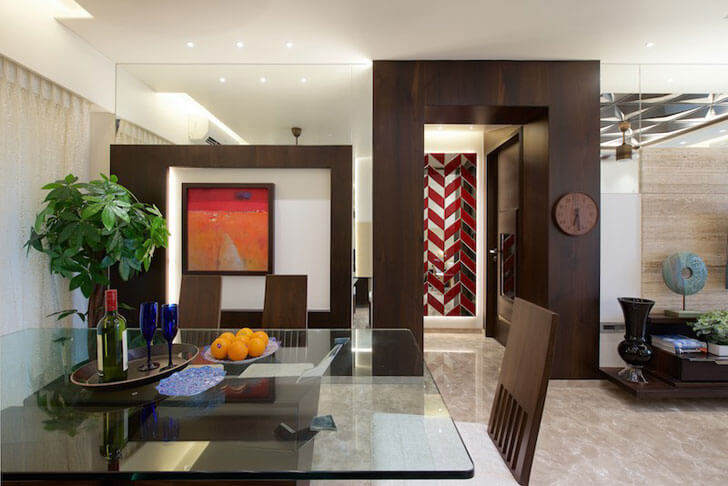 .
A wide range of Italian marble like the grey Fresco, bronze Armani in the living room and white Travertino in the master bedroom further the natural feel and colours, while adding a dimension of richness.
.
Frosted glass and Italian marble wall cladding enhance the extravagance. While the use of mirrors as wall cladding effectively triumphs over the visual constraint of a tight rectangular space.
.
.
The subtle colours of upholstery, art pieces and ceiling features in most spaces become part of and enhance the natural décor, while an apt contrast is achieved in the girl's room with spunky colours and geometric patterns and projections.
.
.
The detail-driven work and crisp programming of lines and spaces is also evident from the furniture pieces, customised on site to derive integrated and efficient solutions as well as add unique grandeur to the interiors.
A dynamic lighting palette enhances each space; geometric patterns create varying moods for different occasions, rendering the space with drama and grandiose.
Executed within a span of mere 160 days, the holiday home is a portrayal of precise detailing and innovative use of materials; and becomes an ideal space for the family to entertain.
Concept & Interior Design: Contemporary Design
Principal/ Creative Director: Amit Shastri
Design Team: Hajra Sheikh
Area: 1350 sq. ft. (3 BHK)
Location: Yari Road, Mumbai