By Savitha Hira with inputs from Neeti Patel
Photography: Courtesy Andre J. Fanthome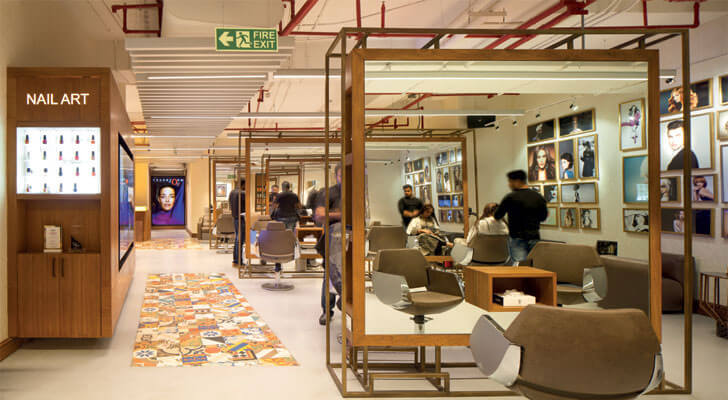 .
Architects and designers, Group DCA give Cyber City, Gurugram, a trendy yet tranquil salon that caters to the multi-faceted needs of a dynamic city dweller...
Working towards providing a social experience beyond that of a mere grooming salon, 'Looks' is designed to include
a café, beauty consultation and retail units.
The 266 sq. m. homogenous space, linear in composition, is visually segmented into defined zones, using large, full-height mirrors, suspended from the ceiling in metal frames. The industrial appeal of the ceiling with its exposed services accentuates the foating feel of the place, making it appear larger than it truly is.
Playing on a nude palette of colours,
whites, beiges, crèmes and browns are set off by colourful tiled inlays in the cement flooring that
create a vivid and evocative carpet that ties the whole space; promoting directional flow and defining nodal points. This is complemented by
a changing grid in the ceiling that together contributes to the demarcation of areas.
With storage designed along the peripheral walls and integrated into the suspended large mirrors, functionality is catered to without visible spatial clutter. Incorporating niches for retail within the framework of the existing cabinetry, the no-additional-accessory space appears to fulfill its functions without the need to flaunt its tools.
The styling and cutting areas are designed as the fluid central space, whilst consultation unit and other private spaces like pedicure, backwash area, etc. are planned towards the corners to maintain privacy.
A
video wall in the styling area displays various retail products and acts as a photoshoot backdrop for the clients.
The salon appears effortlessly comfortable, almost minimalist, lounge-like in its indulgence. Amidst a tasteful display of monochromatic sketches showing hairstyle variants, and cluster displays of colourful photographs, what stands out are the very subtly included wall-and-floor-mounted angular mirrors that create a prismatic effect, accentuating the perception of volume and contributing to dynamism even in the smaller pockets.
Partner Architects: Amit Aurora & Rahul Bansal
Design Team: Sandeep Kumar Dang