Photography: Courtesy Spacetech Designs
Breaking the stereotype of predictable office interiors, the Pune office of TUV
India designed by Spacetech Designs is a
dynamic space that inspires, stimulates passion and encourages teamwork.
The typical shell of minimalistic and bland office interiors is passé; and professional yet friendly atmospheres are in! The TUV India office uses this concept by employing the colour red in a bold, dramatic way on feature walls in an otherwise neutral setting. Ar. Anita Chapekar Bhinge of
Spacetech Designs had a free reign over the project as their clients did not have any standardised colour palette or design; an aspect that has worked laudably for the office atmosphere.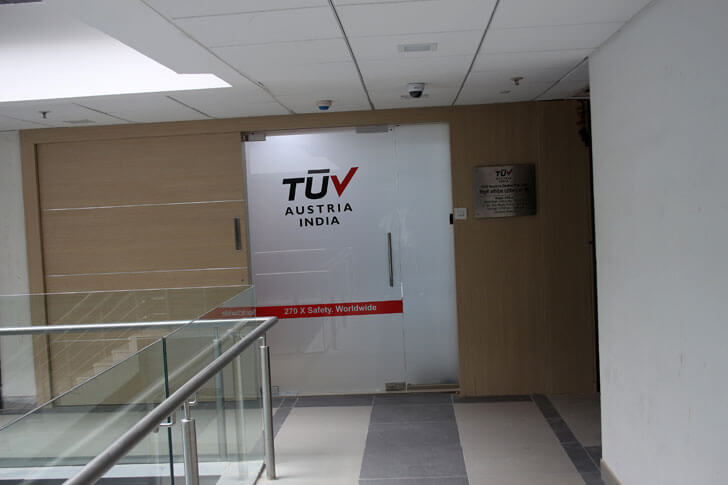 .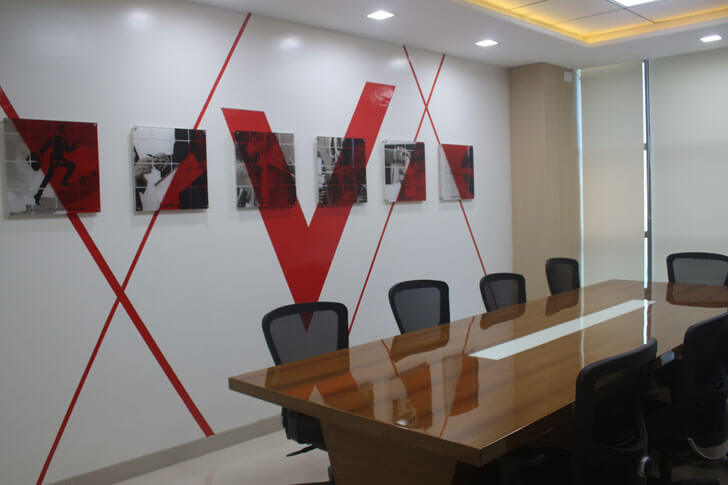 .
Accommodating a conference room, manager cabins, an open plan work station area, service areas including a pantry, toilets and a record room for 790 files, the 1500 sq. ft. office
is an artsy workspace bursting with red streaks laid on neutral shades.
Starting out, a perfunctory entrance lobby acts as a buffer as there was no need for a formal reception area. Typical elements of office interiors abound: furniture, false ceiling panels, glass partitions, storage compactors… Yet, there is nothing humdrum about this space.
Using the red oblique from the TUV logo, a red ribbon anoints the walls in just the right measure, making them moderately striking. The ribbon continues to grace the workstations abiding by soft boards and back-painted glass; as it continues on to the conference room wall, highlighting a composition of company-inspired graphics.
Red is a bold inclusion in the feature wall at the far end of the space, visible from any part of the office, where 3d cut-out lettering emphasises the company's motto of teamwork. Pertinent graphic prints throughout the framework of design brand the space as a part of the company's collaterals.
As most offices tuck in their service areas by means of transition zones or partitions, this one celebrates the utility entrances and compactors by treating them as integrated features of art, thereby masking function. The effort is commendable and the design approach is fresh. More simple interventions like these are bound to change the way colour and art are used throughout spaces.
Design Firm: Spacetech Designs
Principal Architect: Anita Chapekar Bhinge