By Kiran Ghosh
Photography: Tejas Shah; courtesy the architect
Manoj Patel's award-winning design studio gives wings to the aspirations of a young design firm inside a 50 square meters area catering to six employees and a principal architect.
Juggling space in an out-of-box manner, Ar. Manoj Patel designs his studio in Vadodara, with the focus on ventilation and openness. An informal atmosphere is encouraged as spaces flow into each other without any defined boundaries; yet, retain their individualistic essence. The same space is utilised to achieve multiple functions; for example, the library that doubles up as a discussion area.
Vertical louvres on the windows and colourful vertical box-like contraptions screen the spaces in between sustaining a visual connect throughout the office; whilst maintaining the much-needed privacy and seclusion to the chief architect's cabin at one end of the small office.
The footprint of 50 square meters houses a chief architect cabin, and a front office consisting of a vestibule, study, pantry and washroom
along with workstations. Glossy and matte finished blocks rotate about their horizontal batons as visitors are engrossed and exhilarated by the many colours used to set up the fun and energetic mood of the office.
Corrugated sheets constitute the rather unusual finishing material that lines the walls and the ceiling. Painted over with curacao colours, it adds character and serenity to these work-spaces. Amongst the play of material and colour, the ventilation and day lighting of the office is achieved through screens with vertical louvres playing peek a boo. Adjustable scissor extension spotlights address the burning of the midnight oil as is common in an architectural office.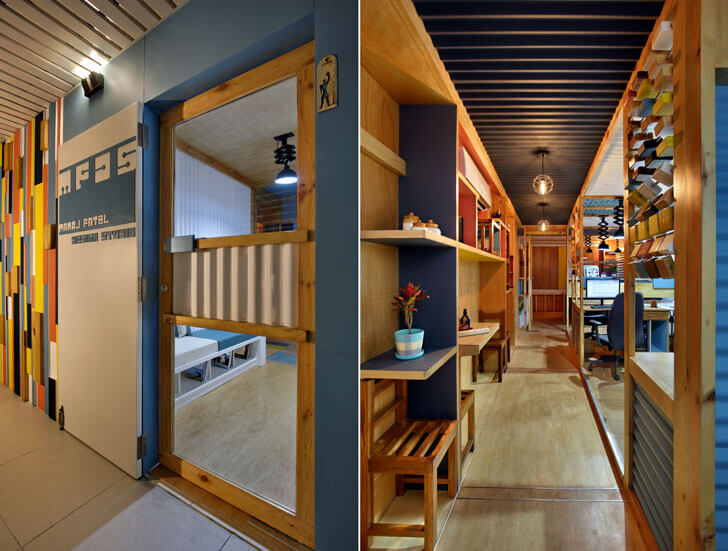 .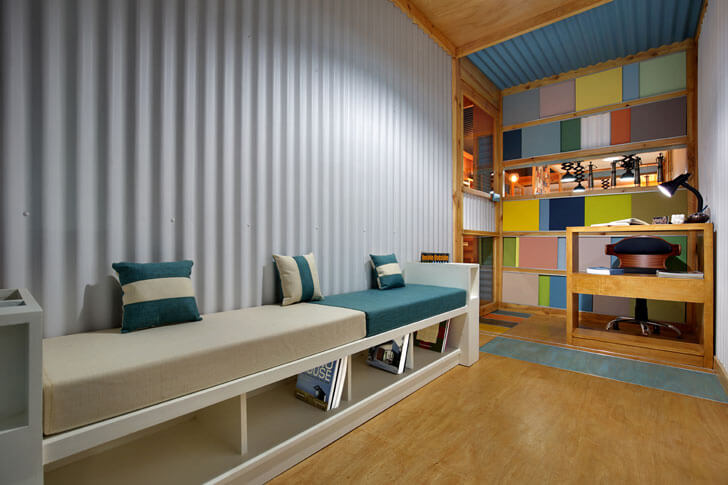 .
The studio provides a collaborative, creative and healthy work atmosphere, where boundaries are blurred alongside respect for individualism. The design not only reflects their design ideology but also their work ethics.
Project name:
Manoj Patel Design Studio
Design Team: Manoj Patel, Vibha Lad & Brijesh Mistry
Location:
Vadodara, Gujarat