By Savitha Hira with inputs from Vidita Mundada
Photography: Photographix,India; courtesy StudioAHA
.
Ar. Aijaz Hakim's latest office project in Pune is a symphony of neutrals…
Located in the bustling and chaotic Phoenix East court, Pune, the Sohamm Unicorp office is characterised by an open plan with a focus on optimum storage. Spread across 4200 sq. ft., clean lines and fine edges define a commodious circulation that is augmented by the extensive use of glass walls and partitions.
Creating an envelope of tonal variations of umber, the architect chisels an ambience that is both, calm and sober; and simultaneously, understated. Playing on a palette of varying shades of grey, black, white, and brown, anointed by sudden pops of colour, each area comes alive in a play of material, texture and lighting, orchestrating a distinctive ambience.
.
Leather-finished upholstery, oak veneer panelling and cabinetry finished with
sabbia lacquer
are bound by Armani brown marble flooring. A profuse use of glass throughout the partitioned reception, interactive work environs that intersperse cabins with open workstations further accentuates the open plan; the highlight being the unobstructed view throughout the office.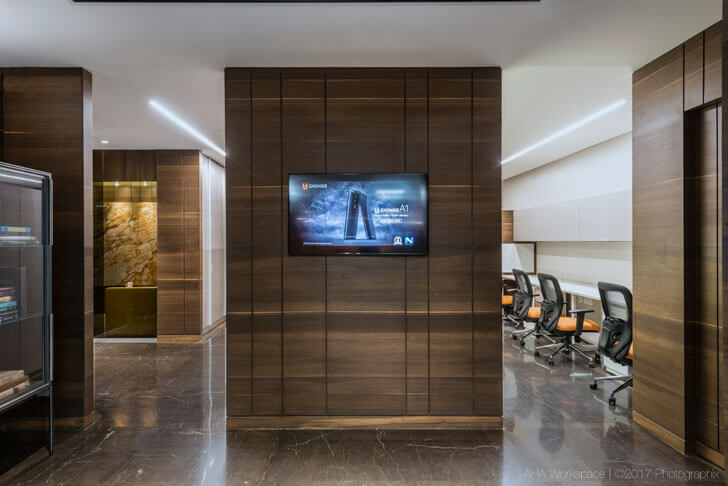 .
The designer looks at breaking each volume with a play of vertical lines. In an office with excessive storage requirements, these lines tactfully camouflage shelves and make every surface elevation interesting to read. Emphasising on amplifying rather than reducing, furniture in the conference room accentuates its linear dimensions; much as the overhead cabinetry does in the work station area. With horizontal and vertical planes juxtaposed to add height here; emphasise linearity there, simple cove and spot lighting completes the chic but serene picture.
The office design encourages transparency and speaks aloud on harmony and chic symmetry, commanding a vocabulary that simple and striking.
Design Firm: Aijaz Hakim Architect, Pune.
Design Team: Aijaz Hakim, Seema Sancheti, Kripa Laungani.
Site Area: 4,200.00 sq. ft.