Photography: Gauri Satam & Tejesh Patil
A contextually-rooted humble farm-stay in Sindhudurg, Maharashtra endorses the fact that good design can be pocket-friendly and sustainable…
'Vrindavan' is a 1000 sq.ft home - an outcome of a perfect retirement plan, holistically built amidst a dense grove of mangoes and chikoos. Architects Gauri Satam and Tejesh Patil have approached the design via minimalism; successfully meeting all the requirements of the home-owners – a 60-year-old couple.
The house follows the natural contours of the site, planned in a succession of 12' wide spaces. The design is a balanced composition of a private bedroom, bath and living space, opening onto a 14' high verandah with a deck overlooking the hillock. The main house is connected to the kitchen via a see-through vestibule, which also serves as the entry to the house.
Indigenous materials are used extensively to reduce the cost of the structure; existing resources have also been reused. The exterior of the house appears rustic and raw, complementing the surroundings. Locally available laterite stone - Chira constitutes the load-bearing structural element of the house; its earthenware-like properties advantaging the home against scorching rays of the sun and the torrential monsoon.
Aiding resistance to the suns' tropical rays, local clay roofing tiles form large overhangs on the pitched roof; whilst doors and windows are carved from the reclaimed teak and Jack fruit wood of rafters from a nearby old temple.
Contrary to the exteriors, the interiors seem polished with a Kotah stone envelope - flooring and wall panelling; providing an added layer of heat insulation. Also, the minimal furniture used comprises of the clients old furniture, altered as needed.
Maintenance of the house is reduced via practising "less is more". As the architects say, "It is not about what we have done, but what we have not done".
.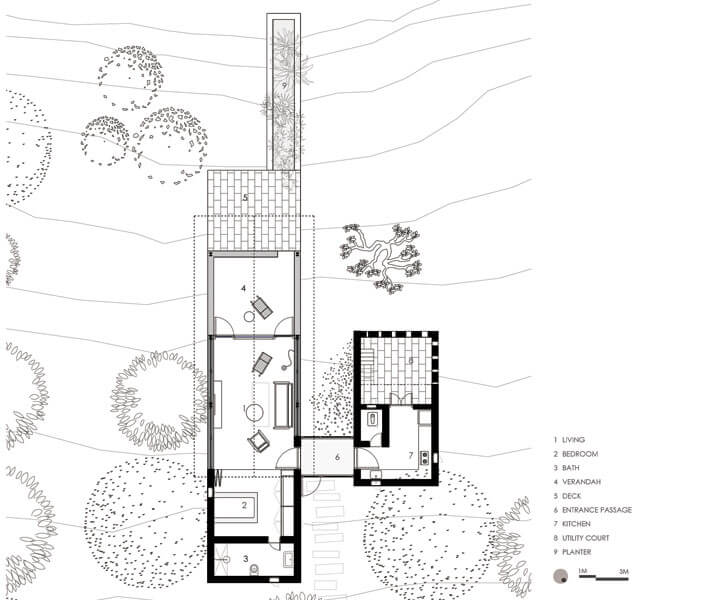 .
Although the site has a lot to explore and play around with, the architects have accomplished this feat in a limited budget of Rs. 1000/- per sq. ft. The simplicity of the design serves as a horizon for the self-nurtured orchard and the clients' long cherished dream.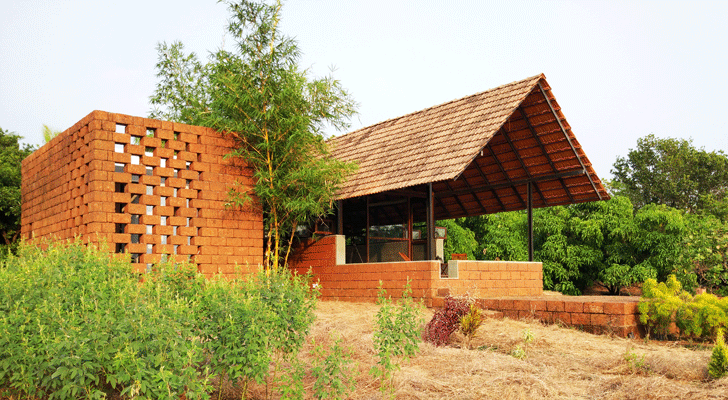 .
Project: Vrindavan, a humble farm-stay
Location: Ozram, Sindhudurg, Maharashtra
Architects: unTAG architecture & interiors – Gauri Satam & Tejesh Patil
Project Budget: INR 10,00,000/-