By FinchD
Photography: Jeetin Sharma; courtesy the architect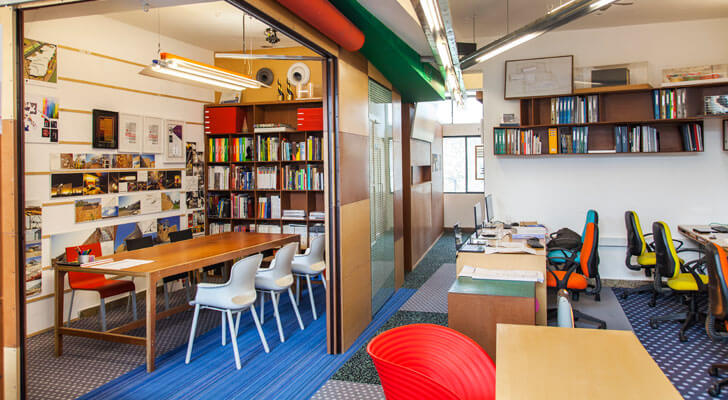 .
Architecture Discipline Studio, located in the busy SDA Market, Delhi is a self-sufficient space, which emerges as a workshop of experimental design concepts.
Refurbished by principal, Akshat Bhatt, the office is spread across two levels and organised programmatically, with common, informal areas on the ground level, and formal areas on the first level.
.
.
Primarily designed as an open plan, the conventional studio space stands out via a combination of partition systems that integrate and separate spaces based on the program. Flexibility is thus woven into the schematic with small, snug volumes for a cabin, library and meeting room, encouraging an interactive ambience that can be transformed into a single expansive volume at will; the highlight being the incorporation of common services viz., data cables, light fittings etc. without any compromise in service, either ways. The organisation of spaces on the upper level differs, as they are designed as enclosed spaces to contain noise from the busy street fronting the office.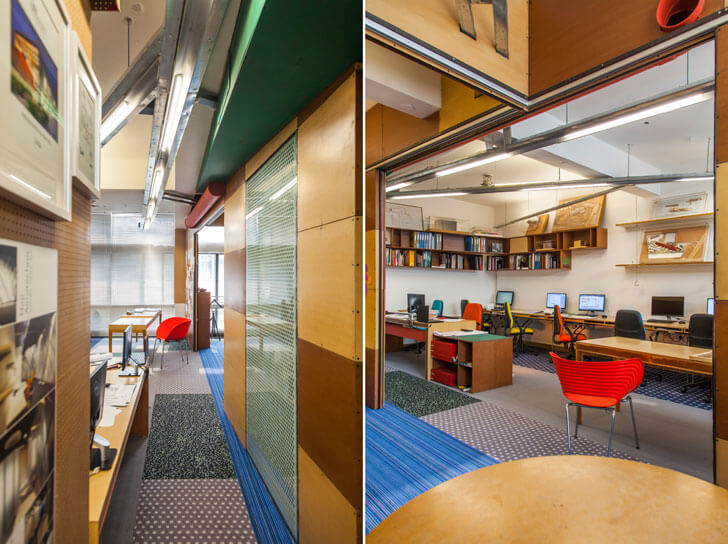 .
An idiosyncratic use of materials, with a combination of finished and unfinished surface treatments, integrated with explorations in light and colour create an ambience of lively spaces. Dual-tone MDF panels in coalition with perforated cardboard are used as noise cancelling partition walls on the ground floor, while the latter is teamed with glass-wired glass on the first floor to allow transparency between spaces. A combination of salvaged carpets from various projects creates an interesting collage on the floor, augmenting the energy that abounds.
.
In addition, a cohesive use of overhanging elements and colour as reflecting agents are used to fashion a space that interacts cordially with the elements within by visually enlarging the workspace.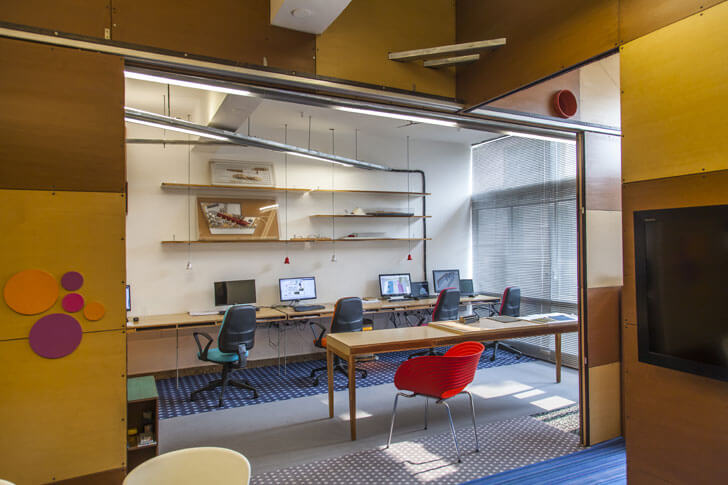 .
.
The pragmatic use of materials, colours, movable and adaptable furniture, fixtures and partitions, and ancillary elements aid in maximising the spatial hierarchies, while simultaneously optimising the creative expression of the users.
As a story and material board of sorts, the studio conveys its capabilities and design perspectives to its clients.
Name of Client: Architecture Discipline
Design Lead: Akshat Bhatt
Design Team: Akshat Bhatt, Chitrang Jha
Structural: Architecture Discipline
Mechanical: Architecture Discipline
Lighting & Electrical: Lirio Lopez, Project Lead: Linus Lopez
HVAC: System AIRCON, Project Lead: Yogesh Punjani
Plumbing & Firefighting:Architecture Discipline
PMC: Architecture Discipline