Photography:
Photographix - Sebastian + Ira & Mahek Lalan;
courtesy the architect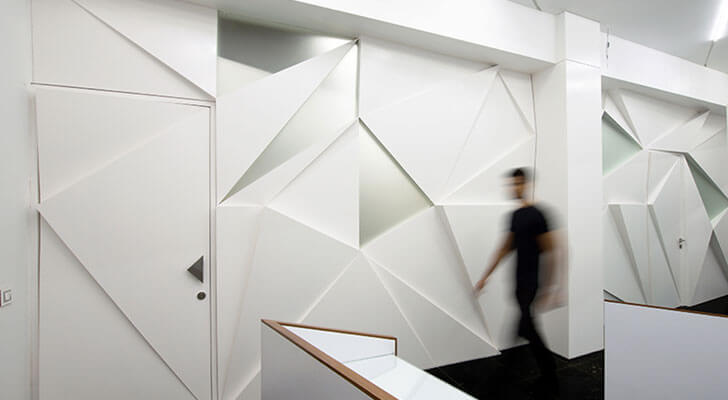 .
SML Architects reconfigure space and reinvent material application to transform a dull manufacturing unit into a highly modernistic and convergent office…
The suburban office, which specializes in innovative technology, housed most of its machinery and the staff indoors, whilst the surrounding open space lay un-utilized. The target was to reorganize and design the interiors such that the expanding staff and the machinery could be accommodated in an ordered yet imaginative manner.
Rising to the challenge, SML Architects started by enclosing the open area with a temporary roof and shifting factory operations here, making the indoors available for the senior management and staff. Keeping the spirit of the organization in mind – skill and discipline in the absence of hierarchy - walls and mezzanine floors stand eliminated; instead a focal element of a tessellated wall takes centre-stage.
This wall, which connects the entire series of columns that move diagonally across the space, becomes the primary spatial element, generating a division of spaces based on function. There is an artistic play of light through randomly yet strategically placed opaque and translucent panels in the wall that makes for a dynamic ambience, muted by the refined and ordered geometry of the interiors of the managerial cabins as well as the furniture. The contrasting colour and natural texture of wood provides the class and the warmth that the space deserves.
The play of geometry strikes a subtle balance as the angular lines are mimicked in the furniture, partitions and ceiling. In fact, the pinched ceiling becomes the next eye-catching element that enhances the space. Using wooden panels, the beams and columns are integrated into the pinched ceiling, where the troughs and valleys converge towards the centrally located column with the lighting tastefully articulated. The entire ceiling appears like a pitched tent roof, its wooden troughs used ingeniously to conceal services.
Through simple elements thoughtfully organized, a regular office space is transformed showcasing a sense of progressive direction and values - the qualities the clients aim for in the philosophy of the organization.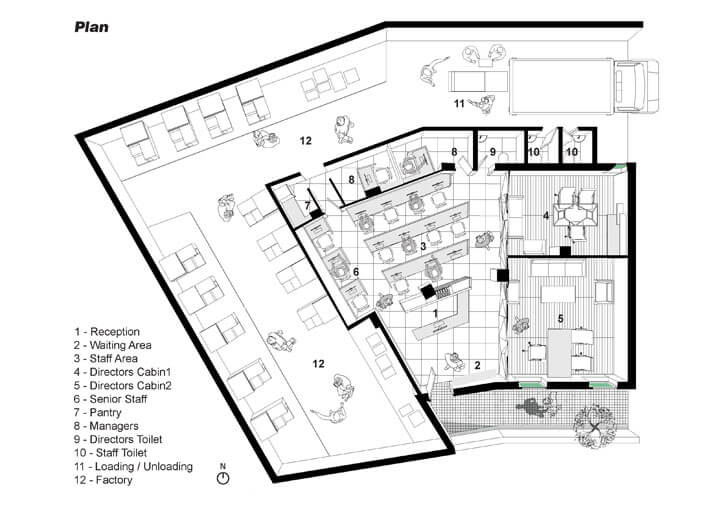 .
Design Firm: SML / Studio Mahek Lalan