Photography: courtesy HPA Architects
Read Time: 2 mins
Luxury has many connotations; a private infinity pool and an inviting sculptural canopy apart, this sprawling bungalow is anointed with bespoke art…
Designed, built and landscaped by Hiren Patel Architects, this contemporary bungalow accommodates three generations of a business family. Spacious and luxurious, it draws in the outdoors from all angles.
A wide array of trees like Rain, Buch, Silver oak and Singapore Cherry, etc., impart a forested look to the lawns and verandahs, whilst an artistically created wooden-ribbed canopy with broad columns holds one's attention right at the entrance of this 2-level abode.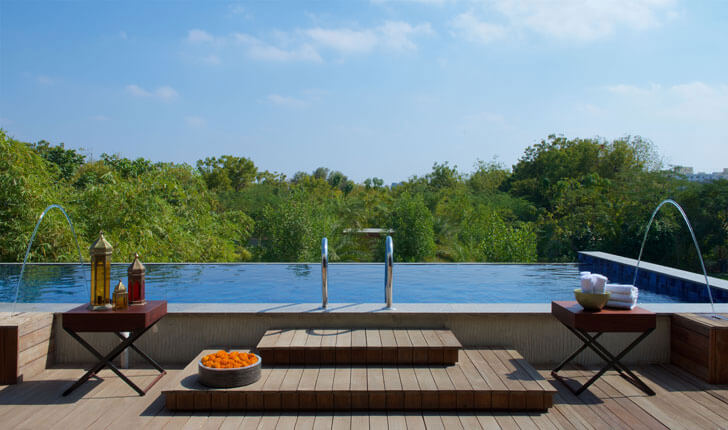 .
As privacy was an overriding factor while designing the pool, it features on the first floor along with a steam and sauna room and four bedrooms; whilst three living rooms, dining, kitchen and a gymnasium are housed on the ground floor.
Spaces actually breathe as negative spaces have been purpose-fully allowed! For example, the placement of a simple writing table in a bedroom celebrates the roominess around it as opposed to being tightly aligned against the wall.
.
The house is naturally well-lit-and-ventilated thereby weaving in sustainability. For example, natural light floods the interiors viz. the central green courtyard; skylights in the passageway; floor-to-ceiling windows; large overhangs, lush greenery, water bodies etc.
In continuation of this concept, careful selection of materials like marble flooring and cladding help maintain cool interiors, whilst natural stone and granite for exterior flooring and cladding along with a large wooden canopy effects a pleasant ambience during the harsh summers.
Crafting a partially open-to-sky outdoor bathroom - with a medley of marble, wooden elements, a spattering of pebbles interspersed with tall trees - allows easy access to guests, when socializing on the lawns.
Artistic expressions abound viz. artist Manhar Kapadia's painting of Gandhiji on the upper level passageway as opposed to abstract works by artist Mahendra Kadia in the lower level corridor and Sonal Ambani's red horse sculpture (seen in the background). Even the prints on silk cushions (in the living area) are inspired by works of late artist Sharad Patel and architect Hiren Patel himself.
Whether it is the ribbed skylight on the first floor passageway, the eclectic bonding of contemporary art pieces or the wooden louvered-screen that makes an architectural statement, the bungalow has an unmistakable timeless appeal.
Fact file:
Area: 15,000 sq. ft.
Design Firm: Hiren Patel Architects (HPA)