Photography: Indrajit Sathe; courtesy The Orange lane
This 1800 sq. ft. structurally refurbished industrial unit, recognised by its chic décor, highlights simple geometry and an understated approach to design.
Designed by Shabnam Gupta of The Orange Lane, this workspace for a leading PVC pipe and fittings giant in the country is anointed primarily with a double height - a voluminous space, with a small portion accommodating a mezzanine floor.
The exiting roof, which constituted a corrugated metal sheet, is re-designed to include a sky-light; transforming the space, as it not only breaks down the otherwise uncomfortably vast volume, but also aids in flooding the premises with natural light.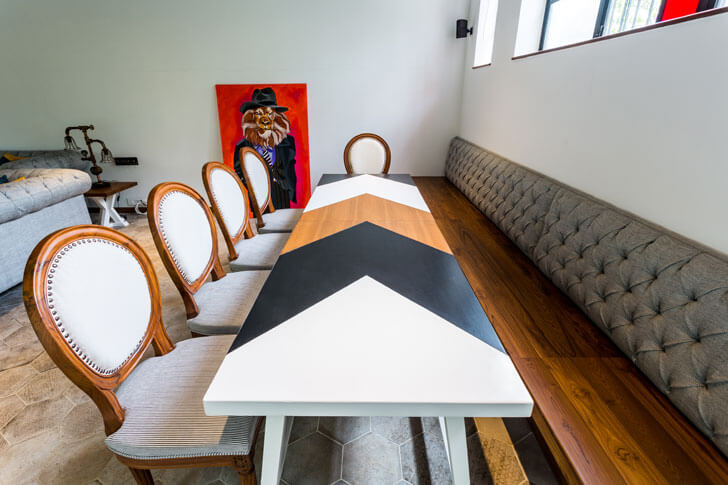 .
A centrally positioned free-standing staircase takes centre-stage as it is the first element to catch the eye at the entrance. The main workspace is designed as an open plan, with the cabins positioned peripherally; thus creating aisles between the latter and the former. A fundamentally achromatic colour scheme, consisting mainly of a combination of black and white, renders a contemporary appearance to the office, while splashes of bright colours are perceptively inserted within the elements to create a warm ambience without breaking the subtle design expression.
Thus the upholstery, the bespoke red bulb installation, centre pieces, intriguing pipe installations and window panes discreetly break the monotony of the black and white scheme created by the structural members, furniture and partitions.
The most conspicuous element within the layout is the vertical garden that adorns the staircase. Its central location, coupled with the overall subdued appearance of the spaces around it, makes it the focal point, which visually connects the mezzanine to the lower level. Furthermore, the skylight in the roof, placed directly above it, puts it under a spotlight- literally and figuratively.
Anchoring the space contextually is an installation of sorts, made of pipes painted white, and placed above the low-height cabins at the periphery. Although placed above eye level, and almost out of sight for the users at the lower level, the installation is one of several aesthetic elements meant to de-stress the workers and increase productivity.
The office is thus evidently an oasis in an otherwise industrial setting, which stands out due to its open, well-lit workspace.