By Rutvi Ashar
Photography: Courtesy Group DCA
Read Time: 2 mins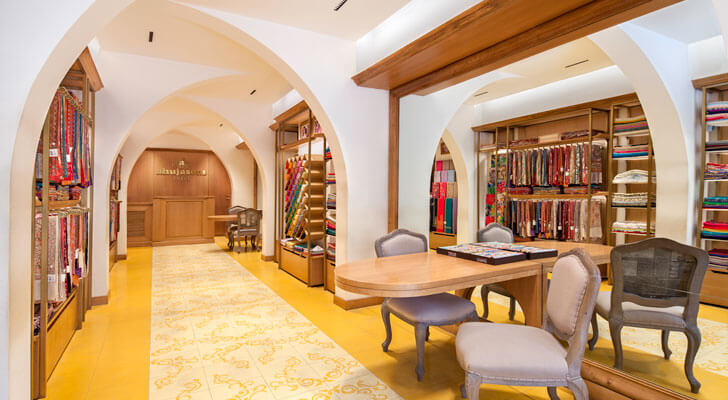 .
DCA Architects' designed new boutique store in Delhi's Khan Market weaves a tale of ingenuity in small spaces…
Architects Amit Aurora and Rahul Bansal of Delhi-based Group DCA focus on delivering design excellence and innovation. Their latest project – Ahujasons is a premium Indian retail brand that caters to a wide cross-section of customers. It houses traditional, luxurious and hand-crafted products from casual daily wear to high-end heritage shawls. The DCA design stamps their range of products amidst a luxurious setting, while keeping the display subtle and sensitive.
.
Predominantly set within a neutral palette of colours that allows the products to shine through, the linear 500 sq. ft. space is designed using a well-thought-out narrative highlighted by traditional half-arches, making it appear much larger.
.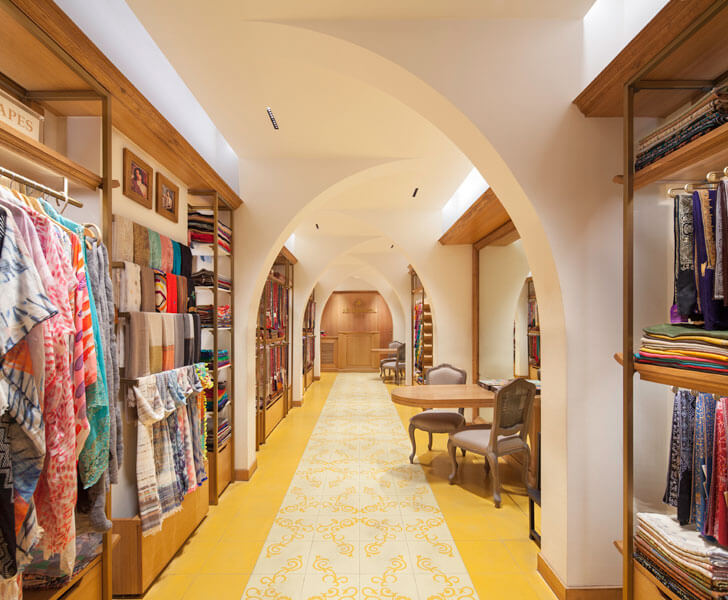 .
Soft lighting brings out the earthy tones that are inspired by the branding of Ahujasons; in addition the surprises that lurk behind the arches unite throughout and allow for an unabridged yet private viewing. The design concepts are clear as large mirrored walls serve a dual purpose of expanding the available volume of space as well as satisfy the core need of this retail store.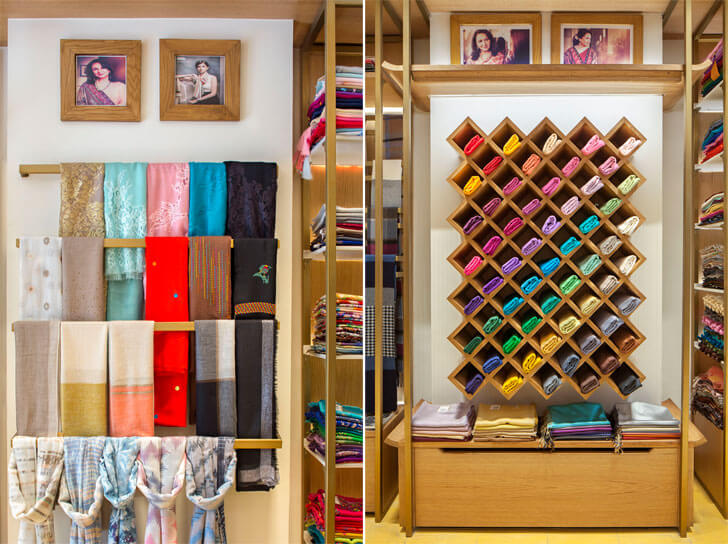 .
.
Oak wood dominates the furniture setting, which is an authentic juxtaposition of customized, hand-crafted furnishing, fixtures and bespoke display system that comprises straight and library hangings, pigeon holes and cascades defining the different zones and products. The shelves stand observer to the products, lending a hand in augmenting their beauty. Clean lines continue to lend to the detailing that seems to make all the difference in this minimalistic approach.
.
Softness is subtly introduced in the design around the logo that also finds a reflection in the patterned handcrafted yellow-and-white tile flooring. Besides, carefully detailed hangers and handles in antique gold too bear the store's bespoke branding.
.
A sophisticated version of traditional shopping, this store is a haven for the modern discerning consumer.