By Savitha Hira with inputs from Neehar Mishra
Photography: Courtesy HB Design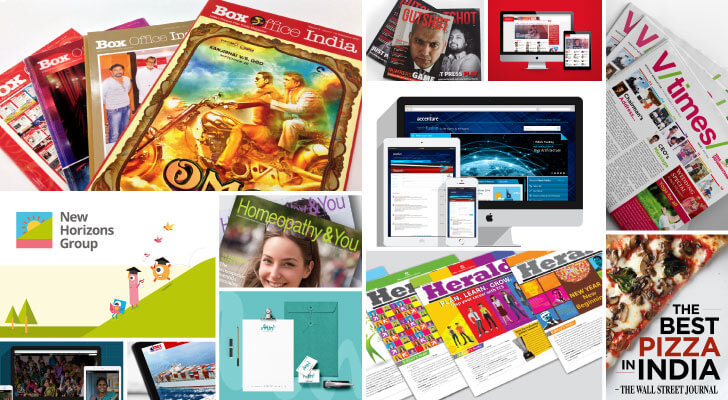 A-Z of graphic gamut at HB Design
Award-winning firm HB Design Pvt. Ltd. delves into their success-rated portfolios to share with us some insights into what makes for the 'right' business communication design!
In a world, where attention spans are drastically decreasing, effective business communication demands not only succinctness, but dynamic packaging that grabs eyeballs instantly. This puts the onus of the ubiquitous ROI largely on design firms, which need to present information a la elevator-pitch style; engaging both, visually and emotionally with the sole aim of eliciting a positive response.
Rupa Manek & Sajid Moinuddin with their recent Gold
With 7 awards in 9 years, Mumbai-based HB Design Pvt Ltd, is the recent recipient of the Gold in the 'Desk calendar' category at the 56th Annual Association of Business Communicators of India (ABCI) Awards. Aced up to deliver the A to Z of corporate communication – from 3600 branding (fundamental to peripheral) to environmental design (an inclusive discipline in graphic design) to dynamic detailing that bogs the realm of print and digital mediums, the firm is known to deliver on the principles of 'simple, minimal and impactful'!
Their current win is the 2016 table-top calendar titled 'An Ode to the Legends' for broadcasting licence company, Phonographic Performance Limited and comprises portraits of India's musical greats made using musical notes. Regarding this as the firm's most exciting project, creative director Sajid Moinuddin (son of Late M. G. Moinuddin – India's legendary publication designer, who is credited with several leading masthead designs – Sunday Times being still in use) explains that while the brief was, as in most cases, fairly open, the concept of musical notes mandated black and hence colour became a sparse commodity here.
Attributing the success of a design to an optimum product study across several branding and market-driven parameters, Sajid confirms that the onus of a campaign is multi-layered, making 'focus' the single-most success ingredient that drives creative vision within set brand guidelines.
Their monthly in-house newsletter for TCS, which has won three awards till date, sustains the corporate look and feel but the colour and font palettes are friendly, comfortable and attractive.
Brochure for The One
A lot goes into selecting the right fonts and colours, explains Rupa (Director and Sajid's better half); and these specifications, when strictly adhered to, sustain across-the-board brand quality and authenticity.

Their brochure design for interiors and furnishings store The One, another award-winner, uses visual strength with brief text as its mainstay; establishing the brand's principles of affordable luxury.
As
Sajid reaffirms - every designer needs to be armed with an open mind and good storytelling skills to make sure his work truly stands out. And, at all costs, avoid clichés!