Photography: Courtesy ANLAssociates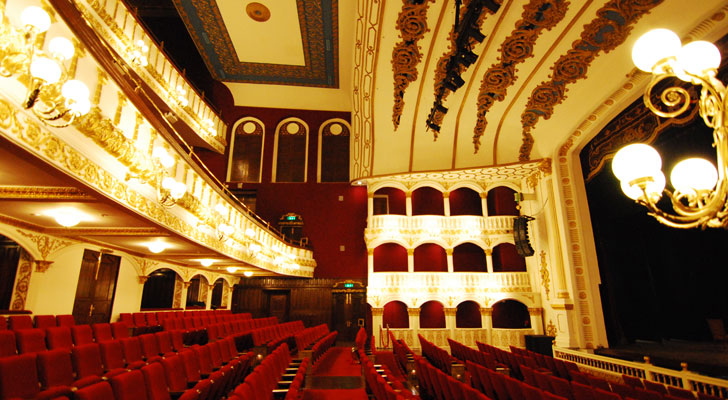 .
Conservation Architect Abha Narain Lambah restores the 1916 Royal Opera House, Mumbai, to its erstwhile grandeur...
The exalted theatre, designed by
Maurice E Bandmann and Jehangir Framji Karaka with an aim to create a space for live performances, held its first performance on 16th October 1911, to coincide with the visit of King George V and Queen Mary to Bombay.
Ceding to the rise of cinema, the theatre eventually transformed into a single-screen cinema house, and underwent massive renovations, until its ultimate closure in the 1990s.
Archival photos from Territorials in India, have aided in disclosing the idiosyncrasies of the style of the original structure. The façade as well as the interiors manifest characteristics of the English Baroque manner, a derivative of the widely disseminated Baroque style of architecture. Unlike its European counterparts, the former leans towards clarity of design and Classicism, as is evident in the design of its façade; divided along the vertical axis, typically seen in Renaissance buildings.
The deified front façade is adorned with a carved pediment, a detailed frieze, Corinthian pilasters, coloured glass fanlights, decorative architraves and cornice bands; while the opulent interiors are characterised by Italianate balusters, timber panelled and louvered doors, timber awnings, cast iron railings, and ornate sculptures.
Other characteristic features of the style include motion, chiaroscuro, and a fusion of the different art forms within itself, exemplified with the use of dynamic sculptures, fountains, paintings, and frescoes that make this - India's only surviving Opera House truly spectacular.
The erstwhile wooden boxes typical of the Opera; the flooring of original Minton tiles; plasterwork, chandeliers, stained glass canopies and windows, are all painstakingly restored. Bevelled mirrors referencing the mirrored interiors of yore are reinstated, and the entrance domes of the lobby decorated with paintings of famous personalities; the archetypal colour palette of red white and gold augment the grandeur and greatly amplify the dramatic experience of an Opera-goer.
Besides ensuring the structural integrity of the building and rehabilitating the elements to its historic accuracy, the state-of-the-art theatre has modern amenities, excellent acoustics and the proficiency to combat the building returning to a state of dereliction.
Originally a Grade II building, it is now being proposed to be upgraded to a Grade I heritage structure and aspires to be the city's foremost centre for culture and drama. The theatrical persona of the Opera House is indeed a reflection of the performances it is designed to conduct!