By FinchD
Photography: Courtesy Banduk Smith Studio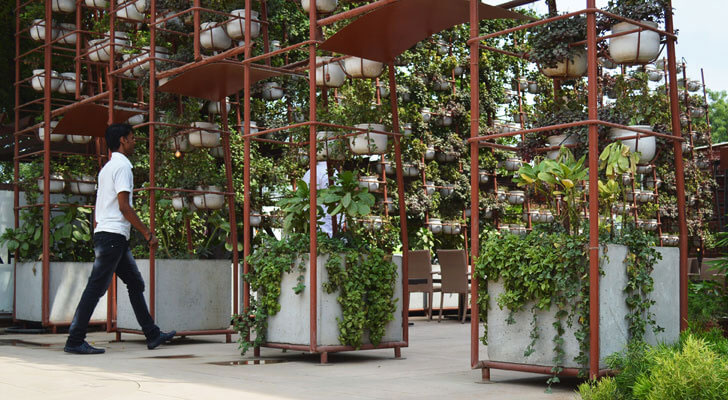 .
Banduk Smith Studio designs a vertical garden as the focus loci of a restaurant design; ingeniously doubling the element as a significant climatic feature...
When Amazo Armeida, an all-day café located at the intersection of two important thoroughfares on the outskirts of Ahmedabad needed a pertinent solution to combat the sun-soaked afternoons of their outdoor area, the designers in their signature minimalist approach identified a vertical garden as an all-consuming innovative solution.
Combating the noisy busy street side and acting as a naturally perforated screen that affords privacy without compromising on the open space, they custom engineered a framework. Constructed from bent mild steel (MS) pipes
, it constitutes a system of interlocked components tied together with smaller, alternating members of mild steel.
The frame steps back as it progresses upwards, thus having a trapezoidal profile. This three-dimensional mesh is supported by concrete planters at its base, which simultaneously operate as water troughs for the potted plants seemingly floating above. The knitted system also sustains a mild steel basket, which in turn holds ceramic pots.
Oriented south-east, the harsh heat mandates the growth of climate-friendly, robust plants. The drooping, upward-growing plants create a blanket across the mesh, thus concealing, in part, its structural system. The design also incorporates a drip-irrigation system, which is used not only to water the plants, but also to moisturise the mesh, cooling the hot winds that pass through it, into the restaurant. The entire system holds itself together, stabilising the structure despite high wind pressure.
.
Continuing the design vocabulary within, the interiors of the restaurant are anointed with open-framed shelves to create alcoves of intimate spaces, echoing the congruence of the planter-screen outside. Keeping the rest of the interiors open and largely without artifice, outsized fixed-glazed windows frame the outdoors in a simple seamless dialogue.
.
With a simple solution that works on multiple parameters – environment, climate, ambience... the designers succeed in transforming an otherwise nondescript eatery into a trending venue.