By FinchD
Renders: Courtesy Sarang Kulkarni
Read Time: 1 min 30 sec
Sarang Kulkarni's newest addition - Baloo typeface - is a multilingual Indic Display type font family, sustaining 10 scripts under an umbrella of common design features.
While previous type families dedicated to Indic scripts are predominantly utilitarian, the Baloo typeface, designed by Ek type (led by principal designer, Sarang Kulkarni) is conceptualised as an informal and light-hearted family, meant to be utilised by design studios, web designers, ad agencies and bloggers, amongst others.
.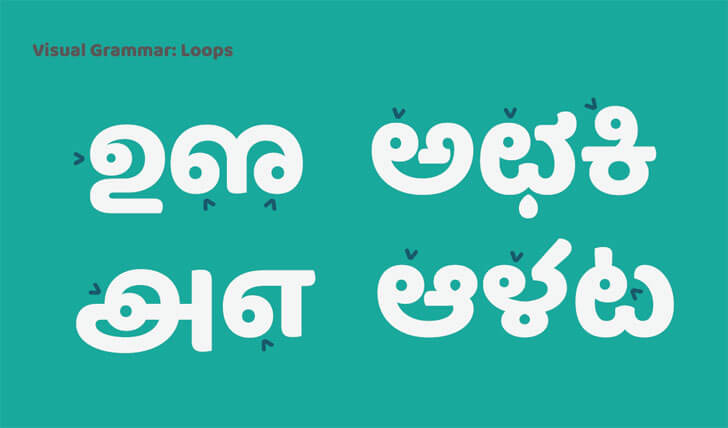 .
.
Appropriated for both print and digital media, the glyphs for each font, which includes Devanagari, Gujarati, Bengali, Gurumukhi, Odia, Malayalam, Kannada, Telegu, Tamil and Latin, are identified due to their distinct heavy-weight appearance. Although devoid of any frivolous spurs, this recently (2016) developed intrinsic form of the Indic script affords this san serif font family the opportunity to make playful explorations, with knots, loops, and tails and swashes. It is thus a balanced combination of soft and sharp curves.
The heavy weight, balanced with the height, typesetting, line length, letter spacing and leading, all contribute to the affable appearance of the typeface and provide it a simultaneously blithe and assertive quality. Due to its bold form, it has a uniquely striking form. In addition, the design has managed to create a vivid and easily legible impression, for a range of scripts, which are inherently ornate and complex to read.
The composition of the glyph thus provides a unique personality to each font within the family, with consistent and associative peculiarities within the family. This enables the fonts to be usednot just in isolation but also in groups, on an as-needed basis.
Conceived historically as stamps and seals in the early civilisations of humanity, typography has now evolved as a process dealing with the arrangement of symbols and glyphs, to create legible and appealing reading material. Although an esoteric art form, the digital age has rendered it commonplace and the resultant product: the typeface and the range of fonts within its body are encountered universally in everyday life.
The font can be downloaded from free and open source: github.com/EkType/Baloo/releases