By Rutvi Ashar
Photography: Atul Kanitkar; courtesy the architects
.
The Space Dynamix designed sales lounge with pointers from the Villa Savoye by Corbusier at Riverdale, Pune is a modern architectural invitation to invest in the property right away!
Principal designers, Manjunath Hathwar and Ashutosh Wad of Space Dynamix, Mumbai, believe in providing a complete design solution with emphasis on satisfying client requirements in a unique and distinct manner, incorporating latest technology. Doing exactly this in their recently completed 700 sq. m. sales lounge at Pune, the architects have planned the indoors around an open-to-sky courtyard that achieves a dual purpose: firstly, it creates a relaxed ambience and direct connect to the outdoors; and secondly, it houses a play area for kids, allowing parents to talk business indoors, while keeping an eye on them.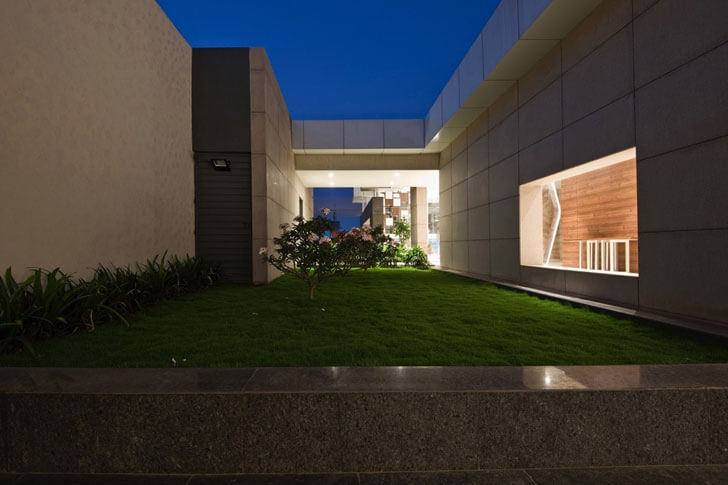 .
.
Working towards a seamless interior-exterior appeal, the reception area is positioned at a height to rake in the panoramic view through unfettered glass walls, which also allow abundant natural light in all through the day, negating the use of artificial lighting and reducing air conditioning costs.
.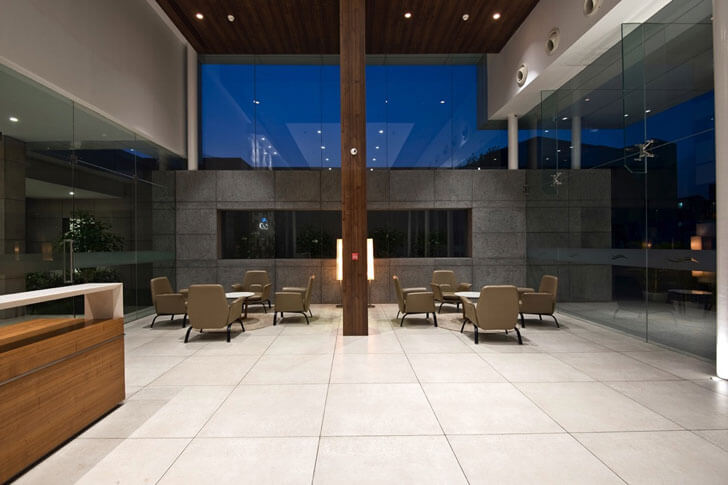 .
Modern furniture pieces in neutral tones allow the view to linger about the central landscaped court, which acts as a connection as well as a physical barrier between the lounge and model room – a concept that validates the entire built up space, where green patches are welcomed in between concrete wings.
.
The grey granite and white A.C.P. exteriors complement the interior colour palette right from the grand entrance reception and waiting area to the anteroom that houses the model. The combination of warm tones with the dark wood ceiling descending onto the ground in the form of dramatic fenestrated partitions and rough and polished composite marble that acts as the backdrop of the reception, accentuates the double-height, contributing to an uber luxurious atmosphere.
.
.
Clean elevational lines and slender columns

and planular juxtapositions of glass and concrete
make this a very modernist design with warm contemporary interiors. In a nutshell, this lounge packs a punch into being an experiential centre, glimpsing into the proposed real estate project, fulfilling its purpose of announcing a refined modern address.