Photography: Sebastian Zachariah; courtesy Zero9
Read Time: 2 mins
Ushering in opulence via multiple reflections and playing on a metallic palette, design firm Zero9 designs a trendy apartment for a nuclear family in a posh Mumbai suburb…
Amalgamating two apartments, the inherent advantage of the ensuing spaciousness has proved to be a wide canvas of opportunity. For instance, the expansive 22 ft x 22 ft living room is definitely the highlight.
With plenty of space to play around, a foyer is carved out as an antechamber to the living room, whilst a lounge and a separate kids' lounge provides additional seating zones, which serves a dual purpose of accommodating people together in one large space; at the same time allowing them to zone off into privacy.
The partially open-plan layout divided only by sliding glass panels, mirrors and consoles comprise a dining area on one side and the lounges on the other. The home is predominantly a white shell with pops of colour seeping in through cushions, curtains, artifacts, furniture, patterns, motifs and the like. Interestingly juxtaposing this vibrancy is the sophisticated charm of the cut-work mirror-clad sofas and console; curtained laser-cut metal sheets and a shining metallic laser-cut side table that dramatizes the living room with a shimmering, reflective touch minus colour.
A testimony of the client's fondness for entertaining shows up in not one but two guest bedrooms! One features a simple golden motif running all across the entire breadth of the white bedroom whilst the other is elaborate in character with a patterned ceiling; subtle motif wallpaper whose exact design visually continues as etched glass panels on wardrobe shutters; rectilinear dado paneling along the walls etc.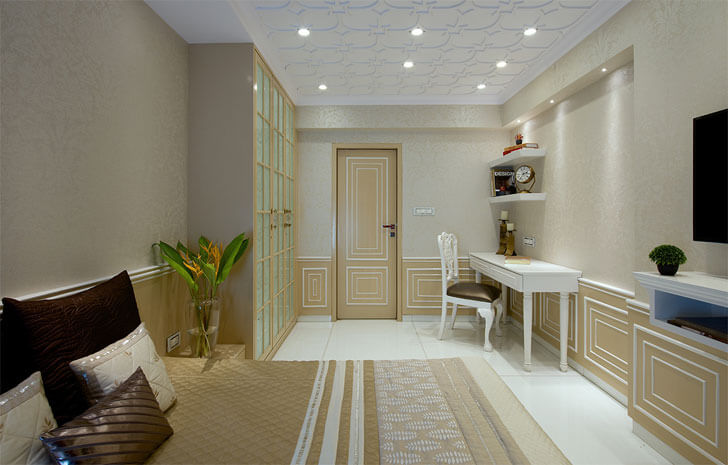 .
.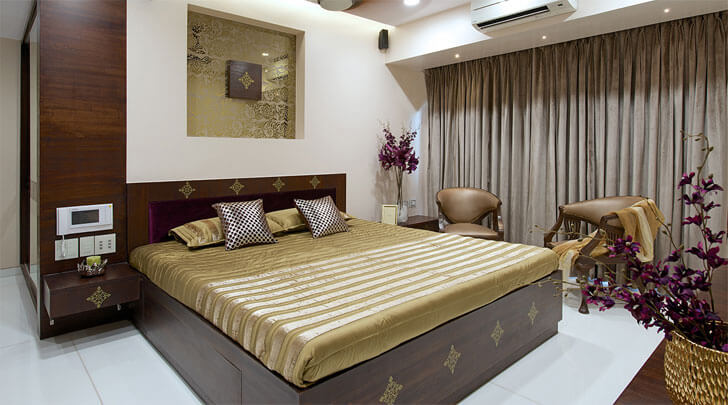 .
A happy medley of textures, materials and designs coupled with state-of-the-art, fully-automated features turns the residence into not just a swanky and aesthetically-pleasing abode but a smart home where moods and ambiences can be created, changed and controlled with just a click on an app.