By Rutvi Ashar
Photography: Courtesy DCA Architects
Read Time: 2 mins
.
Hyderabad's luxury salon, Mirrors is probably a tad more stylish than its customers. Monochromes, mirrors and glossy surfaces et al treat clients much like their Nizam forefathers!
Dream. Design. Discover. Deliver.
With this guiding philosophy, Amit Aurora and Rahul Bansal of DCA Architects, New Delhi have been creating unique and bespoke designs for their clients over the last two decades. The recently completed Mirrors salon in Hyderabad caters to the needs of modern-day lifestyles that aim to provide stress-free, soothing environs for people to relax and rejuvenate.
.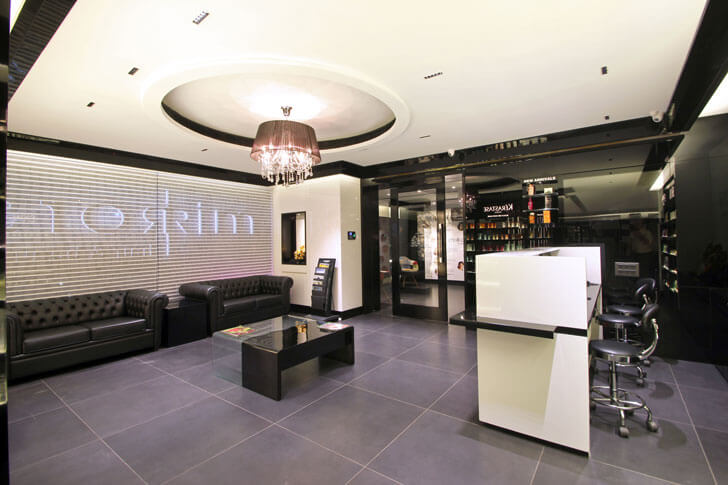 .
Chiselled in pure monochromes, where retail therapy is the hero and mirrors inspired from the company branding resolve the functional needs of the space, the salon is designed as a narrative, moving from one area to the next, seamlessly integrated and augmented by mirrors.
.
.
As the name suggest, mirrors play a huge role as partitioning members as well as cladding for walls and columns: a design strategy that augurs well making the space appear larger and providing the much-needed reflective surfaces for clients to appreciate the magic offered by the salon staff.
.
.
Moving away from atypical salon design, a luxe entrance lobby pre-empts the reception area, leading further into the salon. From casual seating, modern laser-cut jaali and the celebrity-client-feedback wall, the client is transported into a world of prefect shiny hair and manicured nails. A variety of ultra-modern leather seating dots the entire salon in purely black upholstery and metallic silver framing; glossy tabletops and sleek display counters apart, the highlight is the live DJ music station that promises the essentials of relax-rejuvenate-reinvent!
.
For anyone who has visited luxury salons, this space ticks all the right boxes and for brand new customers, it promises to be the ideal treat – functionally as well as aesthetically!