Photography: Charuvi Design Labs
Read Time: 2 mins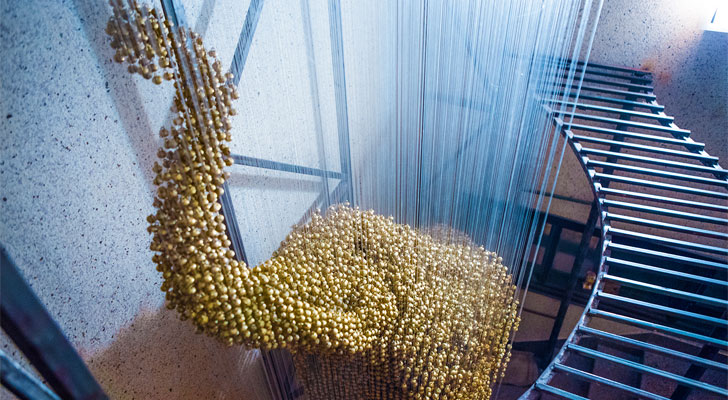 .
Imagination is a drug that runs deep in the veins of those, who dare to see beyond boundaries; artist-designer, Charuvi Singhal is gifted with vision that sees the world through a kaleidoscope...
Studio head of the

eponymous

Charuvi Design Labs, the artist-designer, who is a graduate in art and animation, is fascinated with the idea of creativity transcending boundaries; consequently merging the two worlds of art and technology through her work.
Standing as a testimony to her love for these blending disciplines are her recent works: Kaivalya & Divine Vibrations a.k.a Hanuman Bell Sculpture. The latter is a magnificent self-funded interactive bell sculpture of Lord Hanuman, which was recently on display at Ramlila Maidan, Delhi during the auspicious occasion of Navratri and is now stationed at Sultanpur.
At a glorious 25 feet, weighing 2 ton, the sculpture was made purely out of twenty six thousand bells! The majestic figure stands within a glass enclosure supported by

four metal pillars and a stainless steel grid on the top and bottom that binds the fish cords together.
Kaivalya blossomed from Divine Vibrations, commissioned by a private client, who wished to have something on similar lines at his private residence.
So, infusing the same sense of spirituality and quintessence into her new work, Charuvi, this time decided to recreate the elephant's stance of offering a lotus to Lord Vishnu, from the Puranic legend "Gajendra Moksha" or "The Liberation of Gajendra".
Kaivalya, the notable character from the Puran is a stunning 12 footer, 1.5 ton, brought to life using ghungroos suspended on fish cords. The lotus that Gajendra offers Lord Vishnu is yet be made for the installation.
Both sculptures are made of materials that hold a significant value in Indian culture; both, the bells and ghungroos are used to evoke optimism through a medium that is universally known for its positive vibe: music. Unlike the Hanuman Bell Sculpture, Kaivalya was created with the intention to emit a rhythmic sound of the legendary Gajendra Stuti (hymn sung by Gajendra in praise of the lord), thus heightening the experience of viewing the installation.
The fish cords play a vital role in the design process. Blueprints are designed with core focus on colour coding each specific string. This ingenious system helps keep the bells/ ghungroos in a precise position on these cords to form the anatomy of the godly build; which helps in enabling these sculptures to be dismantled and erected precisely in 48 hours.
Creating something out of the ordinary might not be everyone's forte but if blessed with an eye for imagination or rather, a vision for something more, then even converting something as simple as a bell into something majestic as these installations seems like a piece of cake...