Read Time: 1 min 30 sec
.
Team IAnD's public interaction at the UBM Index 2016 was a first in acknowledging our wide presence and humbling to the core…
Participation at the UBM Index trade show, Mumbai (13-16 Oct.'16) came with a 9 sq. m. booth space and a deluge of ingenious inputs on how we could showcase our Creatives' Weekly Infotainer! Several ideation sessions later, Team IAnD simply decided to focus on what we do best – interact.
So, whilst two of our walls displayed our credentials, our art wall that read. "Unleash the artist in you" turned out to be the symbolic representative of our brand. Artists, architects, designers, manufacturers, fellow exhibitors, laymen… all seemed to enjoy the engagement. Moreover, we actually discovered the artist in many a stalwart – Ar. Rajesh Gajjar drew a horse – his definitive strokes deftly illustrating on the infirm backdrop with a black marker; Ar. Malcolm Tauro put to pen his deep respect for his inspirational muses, sketching a futuristic edifice as a vision of days to come.
Artist Mahesh Karambele sketched a streetscape and Sayeeda Goradia added her horse to it. Sculptor Sachin Waiker drew a compact curvaceous form and Ar. Meghana Phadse balanced it at the other end with her minimalist sketch of a female head. Amidst more and more sketching, veteran graphic designer, Sudarshan Dheer wrote 'Love and Light', whilst Ar. Nitin Kilawala displayed his calligraphic skills and a trade visitor, WanLin Chee , BDM of Configura from Malaysia penned the name of her company in Chinese!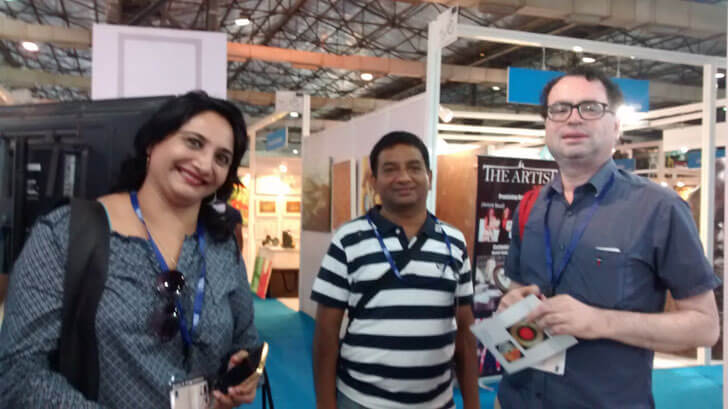 Architects from Jaipur
Visitors flock to watch the action on the art wall!
An activity that was a welcome breather for them all!
We met them all – those who knew us and were happy to meet us; those we had featured; those who dropped us a quick peek into their upcoming projects; those who were intrigued by our ezine and wanted to subscribe; to associate; and generally the majority that were ecstatic that here was an art and design ezine that could deliver the latest in the shortest time span and just a click away!
Ar. Malcolm Tauro of J. N. Architects poses with his drawing of space architecture
A special thank you to UBM for a successful media alliance, to Jai Doshi of Prolite for spearheading our presence at the fair and a heartfelt 'thank you' to each of you, who made our hearts sing last weekend. Your trust and support adds wings to our resolve to bring you a better design experience in all ways, always!