Photography: Bharat Aggarwal; courtesy the architect
Read Time: 3 mins
Dharampura Haveli in old Delhi
Ar. Kapil Aggarwal readapts the glory of a 150 year-old haveli in old Delhi, into a hospitality destination that takes pride in its architectural and cultural legacy in the contemporary context…
Turning the Dharampura haveli (old home) into a heritage hotel, various areas have been retrofitted as spa, museum, restaurants, shops, suites and a terrace-with-a-view, allowing guests to experience sights and sounds of the gallis (bylanes), mohallas (neighbourhoods), bazaars and local flavour of old times from within its historic precincts.
Zero prior experience in adaptive reuse and conservation; no site plan or measurements; no templates of restored havelis either; logistical issues of scouting for skilled labour familiar with conservation techniques and transporting materials via narrow by lanes were among the many challenges that principal architect Kapil Aggarwal and his team from Spaces Architects@ka faced in this project.
So, starting from base measurements of the site, to visiting different cities to understand the finer nuances of haveli style of architecture, conservation of the old home broadly involved strengthening the main structure with epoxy grouting; micro-concreting, repairing slabs and floor plates, replicating architectural and decorative elements in the same scale and finish, albeit with cost efficient materials and even giving a facelift to a narrow approach lane by concealing underground all the unsightly overhanging cables.
.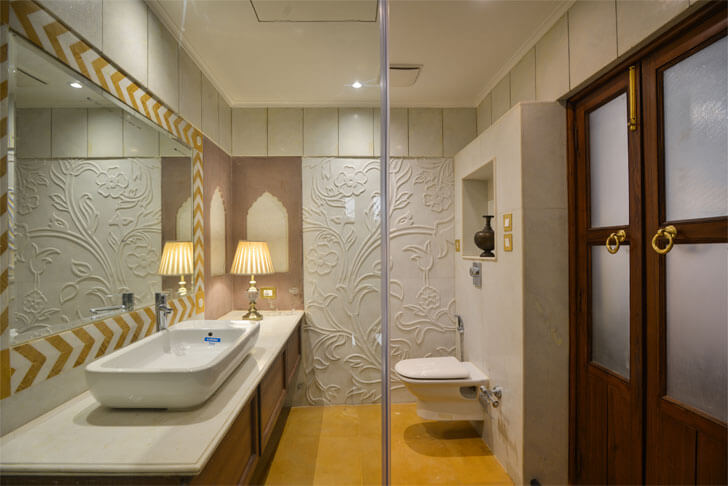 .
Diligence and detailing stand out as paramount features of the exercise as the original character of the haveli is sustained despite contemporary interventions like replacement of doors with clear glass panels (under arches), modern washrooms, sensitive incorporation of fibre and mild steel reinforcements in reconstructing elements and the like.
Recreating the magnificence of the haveli facades from the colonial period, the grand entrance is highlighted with intricate stone carving and cutting work complemented by the colours of Dholpur and red paint. An original carved 135-year-old wooden door is refurbished and placed as one of the entry doors; whilst another silver-clad door opens into the courtyard, as Madhubani-art-covered ceilings allude to richness of art and culture.
The traditional flavour of Lakhori bricks is revived lending warmth to the ground floor restaurant, as different functions open into the courtyard ensuring strong visual connection at all levels, drawing in a flood of natural light and ventilation.
Private suites on the first and second floor complete with living, bedroom and a lavish toilet resemble a choti haveli (small house). Each of the rooms is separated by Rajasthani architectural accents; chiaroscuro elements play peek-a-boo with motifs on corridor railings – animating the stone flooring.
The new third floor features a laser-cut stone jharokha (ornate window) and a vast terrace provides sweeping views of old Delhi's historic monuments. Diligence is shown in enlivening even the most mundane of spaces such as the lift machine room done up as a mural inlay inspired by Mughal floral patterns in stone and further embellished by wooden windows and traditional brackets.
Courtyard planning, chattris (umbrellas), small decorative balconies, fluted columns, well designed chabutras (platforms), traditional baithkas (drawing rooms) depicting the confluence of Hindu, Mughal, Jain and Rajasthani architecture makes it one of the best traditional get-aways in and around Delhi, to relax and enjoy a slice of history.
The project has been shortlisted in the 'Completed - new and old' building awards at the World Architecture Festival 2016 last month.